Although I was born and raised in Spain, I've traveled less in my own country than I have in foreign ones. I moved to the US when I was as soon as I was out of school and fully independent, so weekends to random cities in my country never happened.
As soon as we started this long-term travel adventure, I knew one of the first cities in Spain we had to visit was San Sebastian. And, 13 months later… here we are.
Three Days in San Sebastian
If there's one thing that's clear, it's that San Sebastian ("Donostia" in the language of Basque) is a place for you to relax and enjoy. Don't run around chasing every landmark, or you'll be missing the essence of San Sebastian.
Savor every minute while you're here.
We know there's a ton of things to see and do while in the Basque Country, but we recommend staying at least two or three nights in this vibrant city within Concha Bay. With no schedule to follow, here's what we recommend you fill those two to three days in San Sebastian with.
Eat
Let's start with (arguably) the best part of San Sebastian.
Pintxos and Discover San Sebastian
As expected, the most fulfilling time we had in the city involved eating "Pintxos." Pintxos are small bites served in bars and restaurants all over the Basque Country, and San Sebastian is known for the numerous bars and restaurants where you can find them. They're usually accompanied by a local drink, such as apple cider or a Txacoli (local dry white wine).
There are two ways to eat pintxos: on your own, or on a tour. We were fortunate enough to go on a Pintxo tour with Eskerne from Discover San Sebastian, and she was perfect — especially for first-timers like us. She led us through some of the best bars, explaining what we'd like and what we wouldn't according to our preferences.
Then all we had to do was devour whatever was put in front of us. Here are a few photos of some of our favorite pintxos — OSASUNA! (meaning "cheers" in Basque):
Long-Standing San Sebastian Tradition: Cider!
Visiting (and eating at) a traditional cidery is an experience you shouldn't miss while in San Sebastian.
The season for cider is between January and May; fortunately, these days there are cideries open all year long that maintain cider at perfect conditions. One of the most famous cideries in San Sebastian is "Petritegi," located about 15 or 20 minutes away from the city center. (There's a bus that gets you there!).
The cidery is surrounded by beautiful nature all around, with its own field of apple trees, all of the machinery necessary to create cider, and a wonderful restaurant where they sell their cider and delicious food.
Petritegi keeps the cider within large wooden barrels that you'll find throughout the cider house. Then, the ritual of serving the cider here is called "Txotx," (pronounced something like "choch"), which is essentially tapping the barrel for cider. The picture below gives you an idea of what to expect (you've got to be quite far from the barrel!).
And the food — there's so much food. They serve a traditional cidery menu, which is a cod omelet, fried salted cod alongside peppers, and then a bone-in ribeye steak (weighing about 700g) for two. Then for dessert, a combination of cheese, quince jelly, walnuts, and local cookies. Although the menu varies, the cost for it all, including endless cider refills, is 29.90 euros per person.
Highly Recommended (and Affordable) Bar
Our final food recommendation is one that's not suitable for people on a diet — which means it's awesome. It's served at La Mejillonera, a bar that only has a standing area for dining (no tables), and only offers three things: calamari, potatoes, and mussels (the latter of which gives the bar its name).
Everything can be eaten with or without their special brava sauce, which is classic Spanish condiment made up of mayonnaise mixed with a mildly spicy sauce. This place is really affordable and we 100% recommend it.
Viewpoints
San Sebastian is surrounded by three mountains that each provide outstanding viewpoints. The names of the mountains are Igeldo, Urgull, and Ulía.
Igeldo
First, Mount Igeldo is the mountain located next to "La Antigua" neighborhood, and it has one of the most beautiful views of Donostia, AKA San Sebastian. There are a few ways to get to the top: you can drive, take a taxi, or take the funicular (which has over 100 years of history to it). At the top, there's a hotel and a small amusement park that's also as old as the funicular! Be ready for some unbelievable sights from atop Mount Igeldo.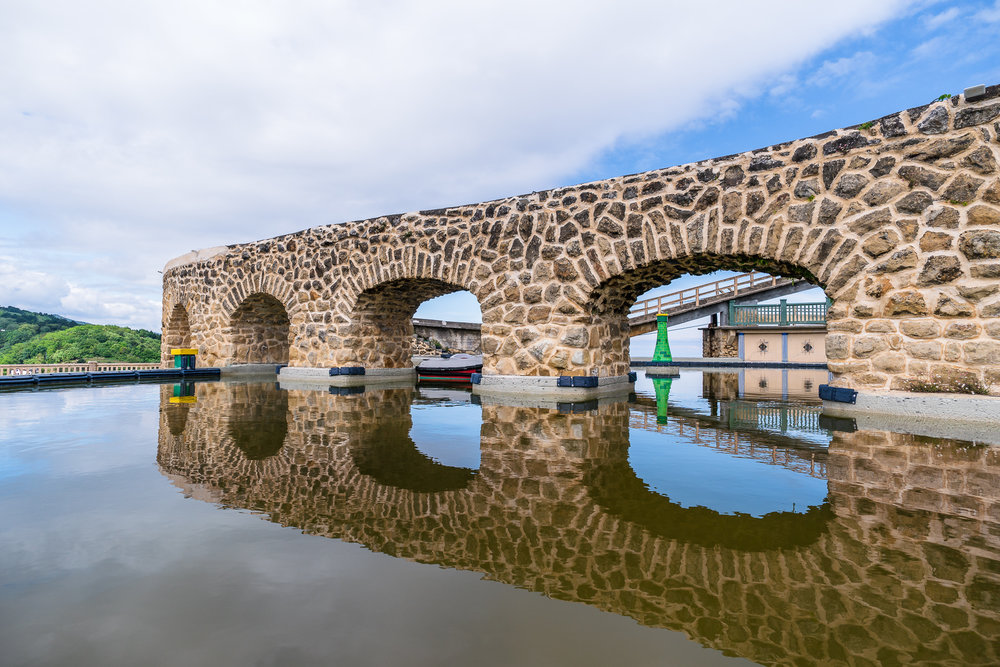 Urgull
Second, Mount Urgull is on the other side of La Concha beach and next to the old city; the views are awe-inspiring, too. You need to hike to get to the top, but it's a pretty easy hike and only takes about 30 minutes. There is a small, free-to-enter museum at the top of Mount Urgull — don't hesitate to visit it while you're up there!
Santa Clara
Third and last, Santa Clara island provides a different and great view of the city. The mountaintop isn't very high, but the views from any point of the islands are gorgeous and relaxing. There's a boat that takes you around the Concha Bay and stops at Santa Clara Island, where you will be able to hop off and hop on, depending on when you get there and when you want to leave (the boat schedule varies slightly). The best part is that it only costs 5.50 euros!
Do
History
The Museum of San Telmo ("San Telmo Museoa," or STM) is the perfect place to learn about the Basque Country and San Sebastian's culture and history. It's an interactive, entertaining, and informative three-floor museum that offers both permanent and temporary expositions. Additionally, there is a cloister on the first floor that dates back to the 16th century and encircles a small garden and various expositions.
Sculptures — Peine del Viento and Construcción Vacía
There are two art sculptures at the corners of San Sebastian. The first, Peine del Viento (Wind Comb), was created by sculptor Eduardo Chillida and architect Luis Peña Ganchegui; it's a set of three sculptures located under Mount Igeldo that form the perfect combination between nature and art. You'll find the second, Construccion Vacia (Empty Construction) by Jorge Oteiza, at the base of Mount Urgull.
Getting Lost and Explore San Sebastian
Visiting the stunning old town is a must, and getting lost between its quirky streets while having pintxos and drinks is the best way to leisurely spend time here. Don't forget to check out La Plaza de la Constitucion, Basilica of Saint Mary of the Chorus, the San Vicente Church, the City Hall, the Port or La Bretxa local market to check out local products.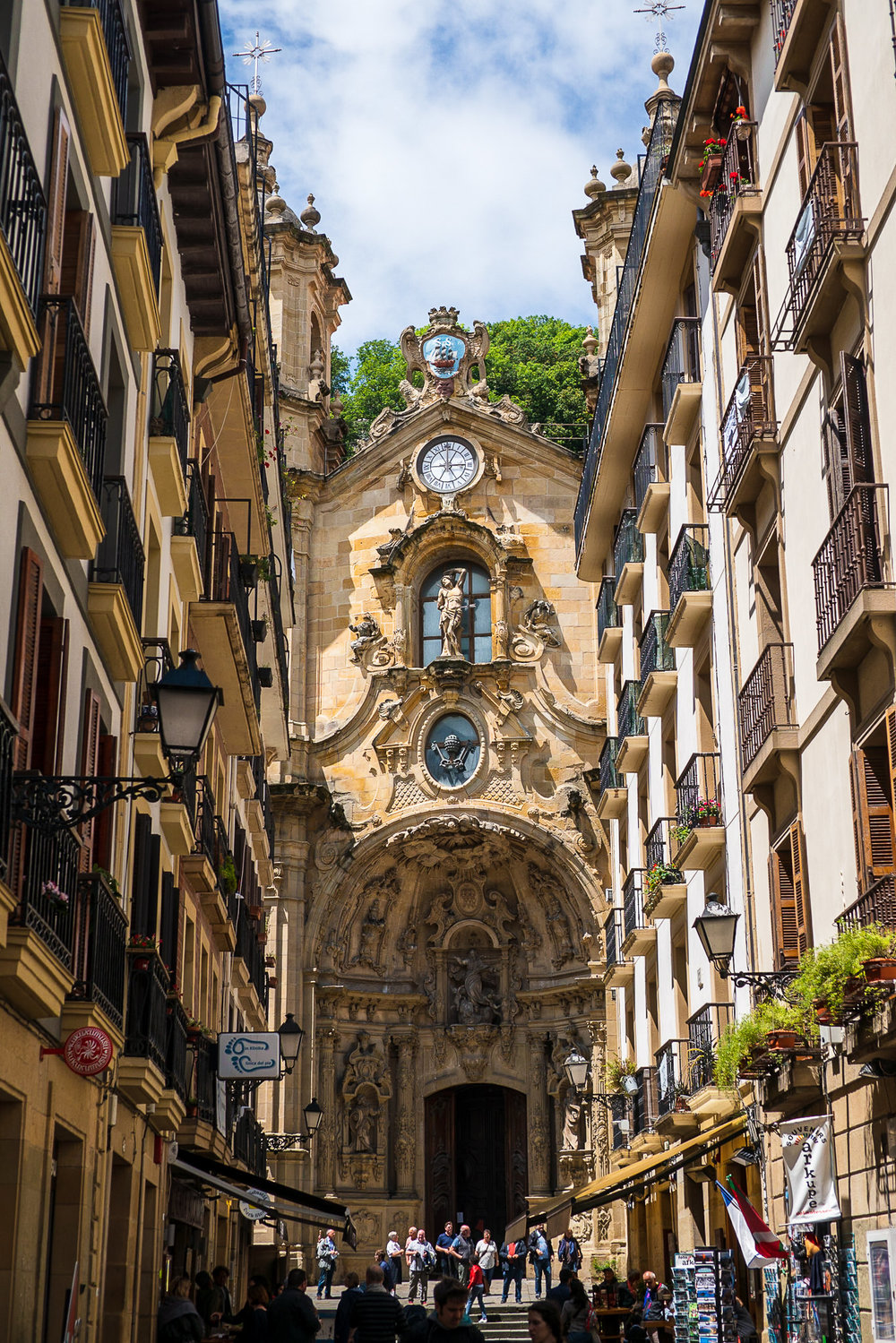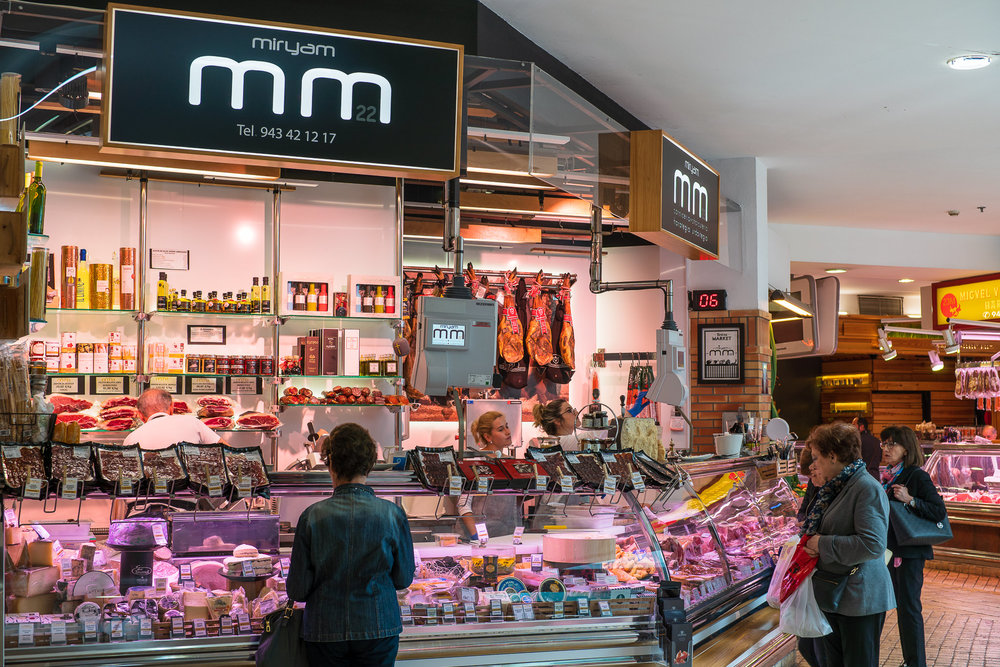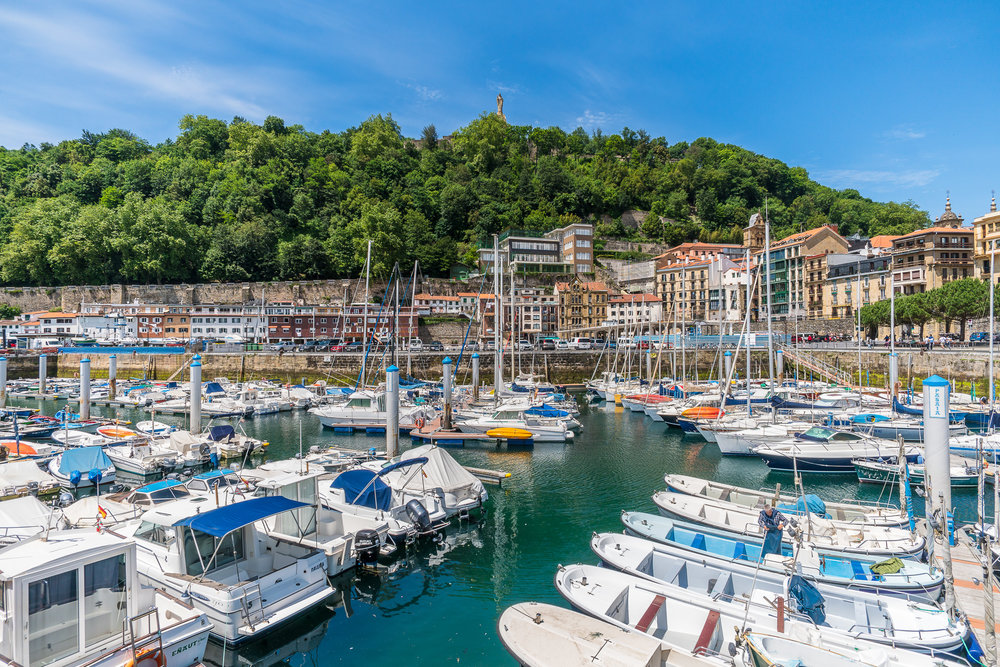 San Sebastian is home to important film, music, and cultural festivals that occur all year long (especially during the summer), so don't forget to check the calendar of events before visiting the city. If you're lucky enough, you might be able to experience one (or some) of them during your three days in San Sebastian.
Relax
Spa La Perla
Spa La Perla is located just atop La Concha beach and has unbeatable views of La Concha bay. Unfortunately, La Perla was closed during our visit due to unforeseen circumstances — but even from outside, it was easy to imagine yourself relaxing in the jacuzzi, looking out at the waves seeping into the sand and crashing onto the rocks. (We'd go back to San Sebastian just for this!)
Miramar Palace Gardens
Go for a relaxing walk around Miramar Palace Gardens, a palace built at the end of 19th century by an English architect. The gardens are gorgeous and perfect for a stroll when you're taking a walk across the bay.
San Sebastian Beaches
One of the best ways to relax (that also happens to be free!), is enjoying one of the three San Sebastian beaches: La Concha (at the center), Ondarreta (next to El Antiguo neighborhood), and Zurriola (at the Gros neighborhood).
The weather in winter allows for lovely strolls across the promenade or the beach itself, while summer weather in San Sebastian is perfect for spending time on the beach exercising or laying back, soaking up the sun.
Once you've left San Sebastian, you'll realize that your time there wasn't enough.
We would have loved to have had more time in the city to explore everything more in-depth (especially the food), but if you want a good summary of what to do with two to three days in San Sebastian, save this article and start planning! And, if you want more detailed information on any of the places we mentioned (or the many that we didn't), check out the San Sebastian Tourism Board webpage.
And don't worry if you don't have time to do all of it, some of the things we mention in this article were done quickly with the purpose of sharing with you; we assure you that you'll want to come back!