Croatia is a dream-like destination that's got something for everyone.
Beaches with unreal, crystalline waters, landscapes with unbelievable, cascading mountain ridges, and history that spans for centuries upon centuries. It's all here.
That's what makes Croatia such an attractive destination for the millions that visit this country every year.
There are so many options and places to visit that we decided to create an itinerary on how to spend a week in Croatia — specifically around the Dalmatian coast — to give you all an idea on how to take advantage of your upcoming vacations.
Dubrovnik — 1 or 2 nights
Dubrovnik has become such a popular tourist destination, especially after being chosen as one of the filming locations for both Star Wars and Game of Thrones. Maybe even too popular. It's easy to see why though, as Dubrovnik is a gorgeous city — both inside the walls (the old city) and outside.
Dubrovnik Old City
Inside the walls, you have several things to see and do, including walking on top of The City Walls (our favorite!), visiting different parts of the city via the narrow streets and stairs, passing by the Cathedral and the Dominican Monastery, enjoying a refreshing scoop of lemon ice cream (especially during the summer!), and just wandering around admiring every detail.
And then, just outside the walls (leaving through the gate of the Old Port), you can walk through the path until you get to a section of sea-side boulders, where you can chill with your drinks just beside the ocean.
Outside the Dubrovnik Old City
Outside the walls, one of the most important attractions is the cable car that takes you to the top of Srd Hill. The Dubrovnik cable car leaves you in front of the beautiful panorama that's made up of the Dubrovnik Old Town and Elaphiti Islands.
Then, on the other side of the city, you can visit the beautiful port; from here you can watch boats come in and out of the harbor on different excursions. And, if you visit between 7 and 11 AM, you'll be fortunate enough to visit the Gruz market — a modest local market that offers fresh fruits, vegetables, fish, and flowers, all at local prices.
Visiting and exploring local markets is one of the most authentic ways to get to know a location. Some examples of what we purchased on our trip through the market include 0.5 kg of cherries for 15 kunas ($2.30) and 250 kg of shrimp for just 10 kunas ($1.6).
TPM Budget Tip
If you're planning eating out, consider going outside the wall. We recommend this because everything inside the old city is aimed at tourists and is, therefore, more expensive. If you really want to keep the budget low (and if it's possible) try cooking food at whatever apartment or accommodation you're staying at!
Accommodation
We stayed at the amazing Luigi Apartments, which was probably the best apartment we've ever stayed in and one of our favorite parts of Dubrovnik; it was very clean and well-organized, close to the main point of interest (Old City), and had an unreal vantage point of Dubrovnik from the balcony.
In fact, the apartment's spacious terrace was our favorite part of the apartment, and we spent every minute possible enjoying it along with a glass of wine. The rest of the apartment has every feature you could possibly want to feel comfortable, and the hosts running Luigi Apartments were amazingly hospitable and friendly.
The apartments are just 15 to 20 minutes walking from the Old City, which made walking there every day extremely easy and rewarding.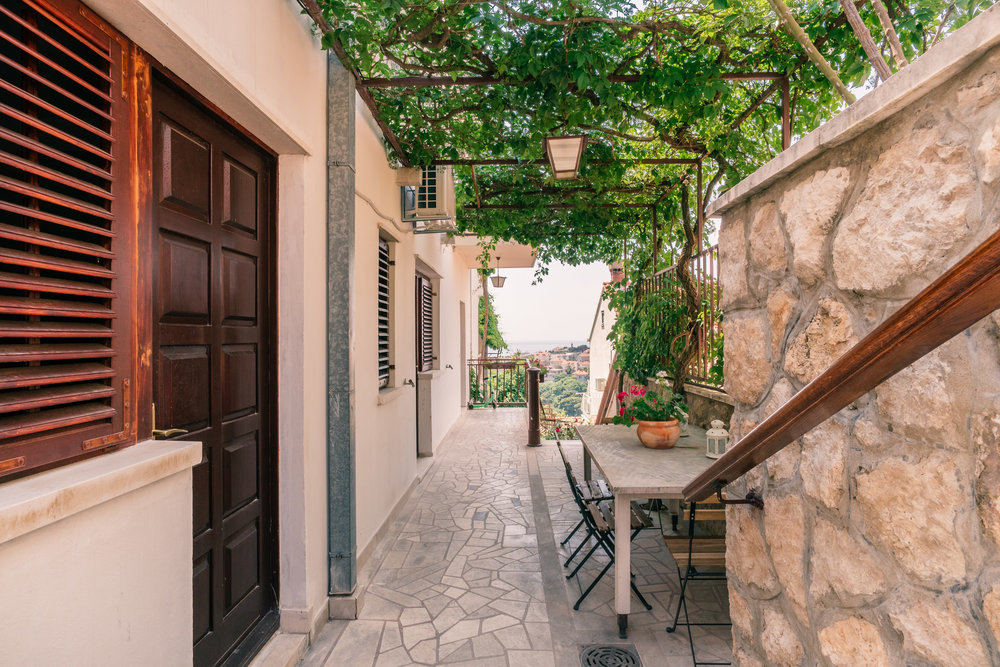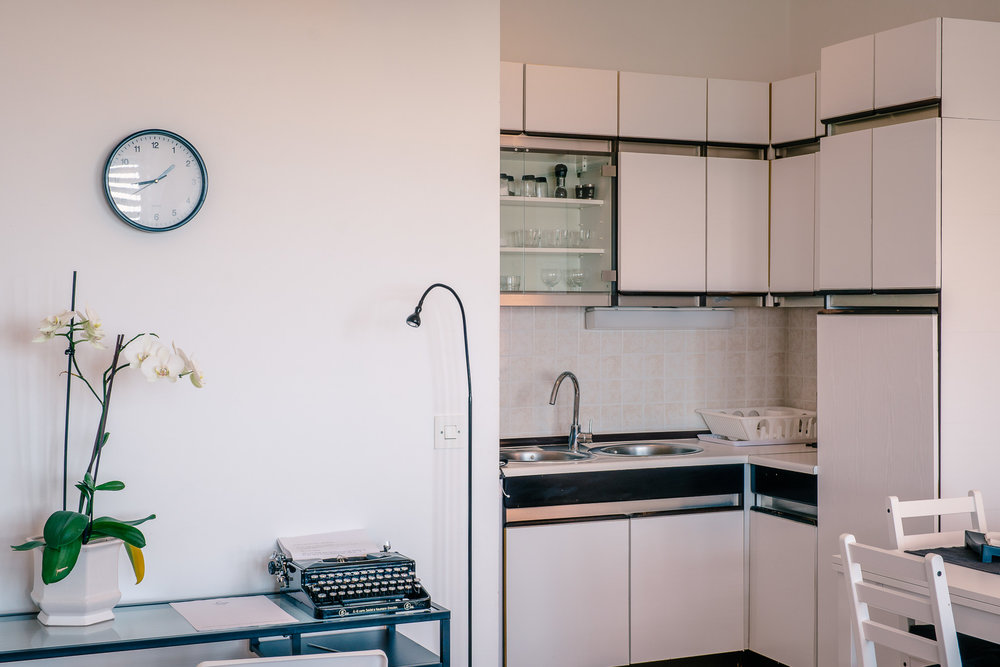 Transportation
Just to give you an idea of price/distance, you can take a boat from Dubrovnik to Korcula for 130 kunas (keep in mind, this is a 2-hour ride).
KorČ ula — 1 or 2 Nights
If you spend a week in Croatia, we recommend you to visit a couple islands. A city much quieter than Dubrovnik, Korčula town (pronounced "Kor–chula") is a town inside of Korčula Island situated on the Dalmatian coast, 2 hours away from Dubrovnik. We stayed in Korčula Town, a small town on the east of the island.
The great thing about Korčula is that it's cheaper than Dubrovnik and other places on this itinerary, so it's the best location to look for activities to do and "fancier" meals to have while keeping the overall budget down.
While in Korcula town, you can explore the beautiful town itself, Marko Polo's history (as this is where he was born), have a drink at "Massimo bar" (a pricey bar at the top of a tower overlooking the sea). We loved the pizzeria "Steps" in Korcula's Old Town, where we had delicious and affordable pizzas — more than once.
If you want to enjoy the water and have some fun, you can rent a kayak for about $30, or a small motor boat for about $70 (no license needed). Armed with either of these, you explore the area surrounding Korcula, which features some exciting island hopping (islands that are practically isolated).
We rented a kayak and explored some of the main islands: we particularly liked our time in the quiet Vrnik island, which featured some of the most beautiful and crystalline waters we've ever seen.
Lumbarda — Beach and Vineyard
Another great option is visiting Lumbarda, a gorgeous village just to the east of the island of Korcula; the beach and vineyard zone of Lumbarda is just 6 km away.
This area is ideal for finding sandy beaches that are coupled with practically transparent waters, along with several wineries and vineyards in the area. It's the perfect place to spend the day.
Accommodation
Again, views. When you're on vacation, what you want are breathtaking views to accompany whatever it is you're doing. There's no shortage of that in Korcula, and Hotel Liburna highlights that.
We had a fantastic stay at Hotel Liburna (part of the well-known Korcula Hotels). The pictures below speak for themselves; if you want to treat yourself for one or two nights without completely ruining your budget, this is the hotel to book in Korcula. Hotel Liburna is located perfectly in Korcula, as it's only a few minutes away from Old Town while still having a beautiful view of it and the beach that surrounds it all.
The pool and breakfast that overlook this vista were extraordinary, as was the modern and stylish decor of the whole place.
Transportation:
Just to give you an idea of price/distance, you can take a boat from Korcula to Hvar for 40 kunas. The ride is about an hour and 25 minutes.
Hvar — 1 or 2 nights
Hvar is one of the islands on the Dalmatian coast located near Split; it's known for being one of the most lively towns within the islands, with several bars and restaurants to choose from, day and night.
What to Do in Hvar
On the border of the town is a gorgeous port in the form of a U, with a wide boulevard that's perfect for relaxing walks.
Within the town, you can visit the main city plaza (St. Stephen's Square), the old street of Hvar, the Cathedral, and a modest local market that opens from morning till 1:00 pm and sells fresh local food and produce.
Without a doubt, the highlight of your time in Hvar, or at least was the highlight of our week in Croatia, will be a visit to the Paklinski Islands. These islands are just a water taxi ride away from Hvar, and will vary in price depending on which part you visit (read down below for specifics).
Because of our limited timing, we went to one of the most recommended areas in Hvar: Mlini beach and Zdrilca beach.
These rocky beaches are neighbors on the Paklinski islands (they're a few minutes walk away from each other), and are similar to other beaches in Croatia in that they have some of the most amazing waters you'll ever see. The colors and clarity are unreal. You'll even find stairs and ladders lining the walls that lead right into the sea.
The entire time we were on the island was incredibly relaxing because it was just a few people sharing the paradise of Zdrilca beach and laying back with a few glasses of wine.
Getting to Paklinski Islands
The taxi boat costs 50 kunas per person (roundtrip), and it departs at 11:00 AM, 12:00 PM and 01:00 PM. It returns at 04:00 PM or 05:00 PM. You will arrange the times with the driver before leaving according to what works best for you.
Accommodation
We had an amazing time at an Airbnb called Mamma's Airbnb — if you're interested in visiting Hvar and haven't used Airbnb before, use our discount code to save some money!
Mamma's Airbnb was incredibly affordable relative to everything else in the area, especially considering that it was only a few minutes walking from the center. The room came equipped with a small table, refrigerator, kettle, and its own private bathroom. Plus, the internet was incredibly fast, which allowed us to get plenty of work done when we weren't out exploring.
Lastly, the hosts that run the Airbnb were extremely informative and attentive, and you can tell they really care about their guests and enhancing their experience. We fully recommend this place!
Transportation
Just to give you an idea of price/distance, you can take a boat from Hvar to Split for about 80 kunas, and it is roughly a 50-minute boat ride.
Split — 1 or 2 nights
We were positively surprised with Split. First, the city is really well situated to fly in and out of for any kind of island hopping adventure around the Dalmatian coast. Then, Split was probably the cheapest of our destinations in Croatia, with plenty of options for all pocketbooks.
What to see and do in Split
While in the city of Split, there are definitely spots you shouldn't miss: the alluring "Riva" promenade, where you can stop for a quick meal or coffee (but expect higher prices!), Diocletian's Palace, a relic in the ancient part of the city for your to explore, the local city market for some fresh and cheap local products (a kilogram of cherries cost half of what they cost in Dubrovnik, for example), the Marmontova street for shopping, and lastly, the Croatian National Theater for an entertaining play or opera.
As far as eating is concerned, we fell in love with Luka Ice Cream & Cake… so much so that we stopped by 4 times in less than 48 hours. They serve delicious, homemade ice creams, pastries, and cakes.
There are several incoming and outgoing boats and tours going on every day from Split, so if that's something you're interested in after exploring the islands, it's available for you on an endless basis!
We also recommend the restaurant "Konoba Marjan" for fresh, delicious seafood — in fact, they actually bring a platter of fresh fish to your table for you to pick from! I especially loved the black risotto with cuttlefish and cheese.

When you spend a week in Croatia, visiting Plitviče Lakes National Park is a must. It's an almost 300 sq. kilometer park filled with magnificent waterfalls, lakes, and wildlife — if you're in Croatia, this is a must.
The Plitvice Lakes National Park Route We Recommend
Plitvice NP is huge, but not to worry — they're created 7 designated routes of different lengths (ranging from 2 hours to 8!). Because we had to other responsibilities to tend to, we had less time at the park than we ultimately wanted. Either way, we took route B, which was supposed to take 3 to 4 hours, and found it to be really pleasant and not tiring at all.
If you're going to do a short route as we did, we recommend you take route B so that you can ride the boat across the lakes!
The Plitvice Lakes Park entrance fee includes the bus ride that takes you to the correct entrance (there are 2 entrances) and the boat ride across the lakes.
Transportation
The best option for getting there is renting a car, mostly because of the flexibility that it offers. The other option, of course, is to take a day tour and return to Split on the same day; we decided on getting there on our own, taking our time at the park, and spending the night there before returning.
Our summary is this: leaving the coast for a 3-hour road trip is completely worth it, as you're rewarded with one of the most stunning National Parks you'll ever see.
TPM Tip — Early Bird
Here's what we recommend: try to go early in the morning to avoid crowds (as we've mentioned before for Mount Bromo, for Chiang Mai, and for Angkor Wat, and countless others). It also helps to visit just before high season, as it's a great way to go with good weather while still avoiding the crowds that ensue.
Final Recommendations for a week in croatia
As you can see, it's up to you whether you stay one or two nights in each city — whatever fits your preferences. If you've got the time, we absolutely recommend staying in each place for two nights, because it will give you more time to explore and enjoy each area without having to rush.
*We were hosted by Liburna Hotel and Luigi Apartments. Opinions found in this article are authentic as always!