We've been traveling for nearly 15 months now, and even so, we had yet to step foot on the African continent. Morocco, and Marrakesh specifically, would be our first exposure to the continent.
Needless to say, we were really excited.
The idea of Morocco ignited our desire to explore and discover a new culture, and now after having been in Marrakech, we wanted to fill you in on all the tips we picked up, as well as some of the photos Robert took along the way.
Marrakech — Tips and Photos for Your First Visit!
Tip #1
One of the first places you will likely visit is the iconic main square, Jemaa el-Fnaa. Be aware that taking photos of people, stalls, shops, and animals isn't really welcomed by the locals, at least not without tipping or asking first. So to avoid angry people, kindly ask before taking photos.
Also... please don't support animal abuse! You'll notice chained monkeys and (drugged) snakes on the floor, with their owners forcing them to perform for money. Don't fund this behavior so that it *hopefully* goes away eventually!
Alright, on to the next tip.
Tip #2
We've got a quick viewpoint for you to enjoy panoramic views of the city! Check out Glacier Cafe; it's especially impressive during sunset. The service wasn't the best though, so we would recommend only grabbing a drink so that you can access the rooftop and then going somewhere else for a meal.
Tip #3
If you visit Marrakech during Ramadan as we did, keep in mind the particular schedules that places around the city keep. Expect places to close earlier as people prepare to break their fast every day at sunset — this is especially true at the end of the Ramadan.
During the most important Muslim celebration, "Eid al Fitr" (the official end of that year's Ramadan), a lot of places remain closed for a couple of days. So while you might not have a hard time finding a place to eat, supermarkets and places of that sort will be closed for days at a time.
Tip #4
While exploring zouks (shops), make sure to check out more than one of them before buying. And most importantly, when you don't want to buy, say "no" with a smile and keep walking. And we suggest trying to get the price down to 10% of what the buyer is asking. (Yes you read that right — go for a 90% discount because that's how much they're marking things up.)
Vendors have already inflated the price to account for even the best of bargainers, so try to bring it down to at around 10% of the original price, or at least to something you'd be happy paying. Oh, and don't forget to pretend to walk away from the shop if you really want to bargain. ;)
Tip #5
When strolling through the streets of Marrakech, people will inevitably offer to take you somewhere: a beautiful, adventurous place. And for free. They would never charge you because they're "already going in that direction."
Don't fall for this! Even though we knew of this going in, we ended up getting tricked into one of these impromptu "tours." We followed someone who was supposed to be a farmer — he the friendliest guy in the whole town. And guess what? He technically didn't charge us, but he passed us off to someone who demanded we pay for a 5-minute tour they pushed us into.
Just say "no" to everyone... unless you're ok with being forced to pay what they ask. Then go right along. You might end up with a funny story, in the end.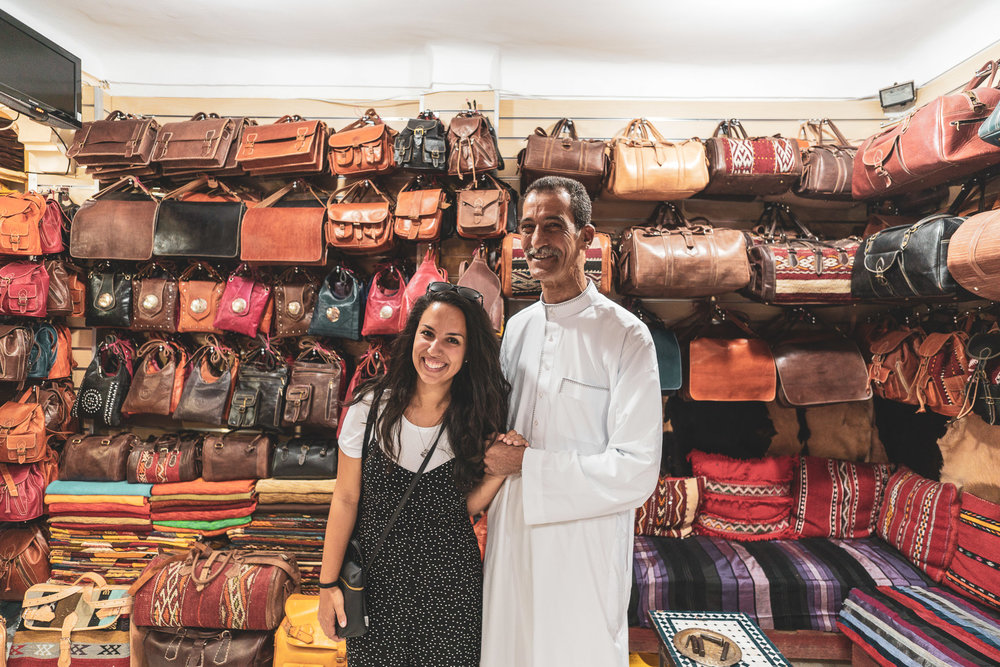 Tip #6
Discover the beautifully ornate doors located all over the city. The city of Marrakech is characterized by the pervasive reddish tone of its buildings and walls, but one of the most impressive things that give this city contrast are the hundreds of different doors you'll encounter along the way. Expect different colors, shapes, decorations, etc. We found that these doors are one of the most photogenic things throughout Marrakech.
Here are just a few of those!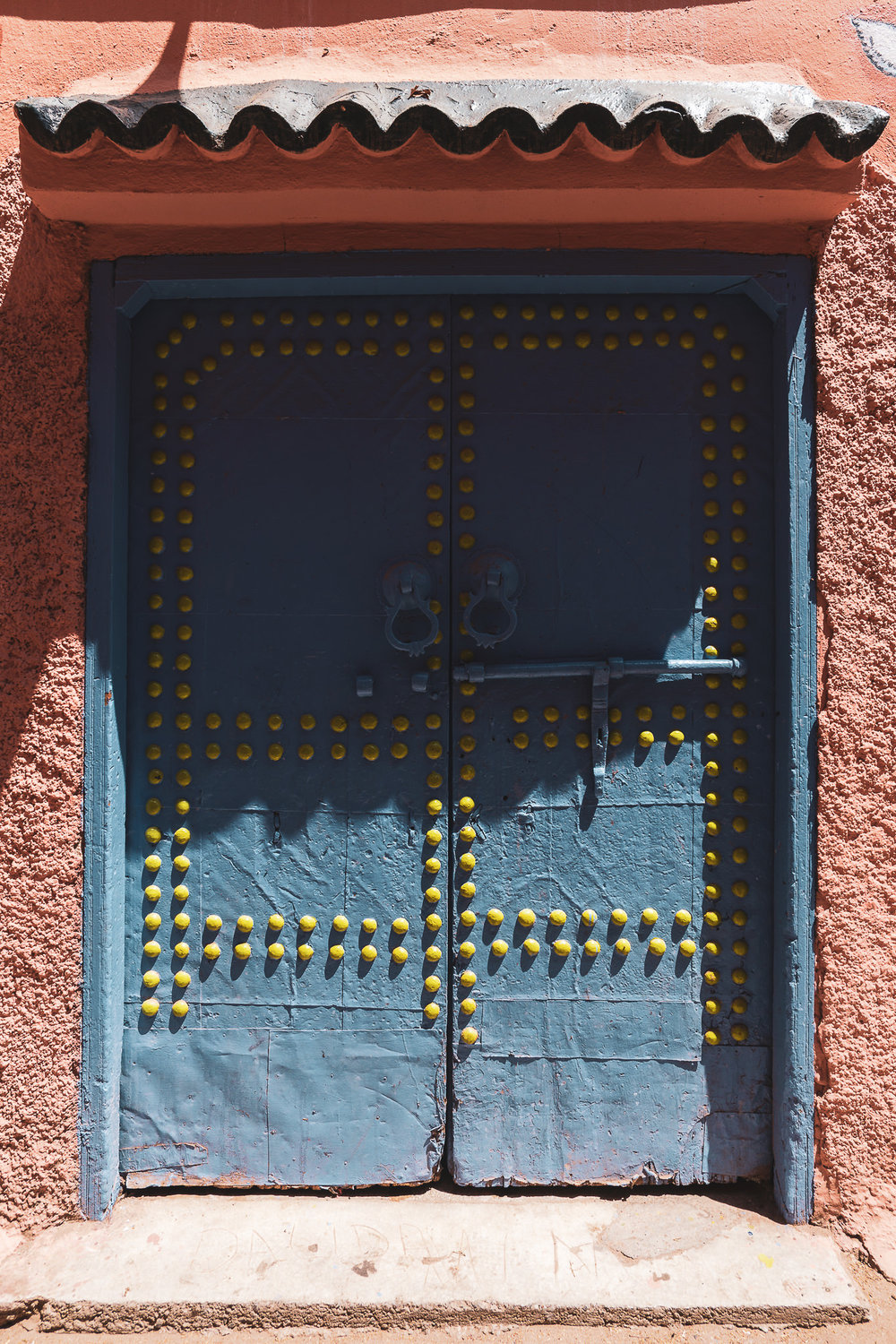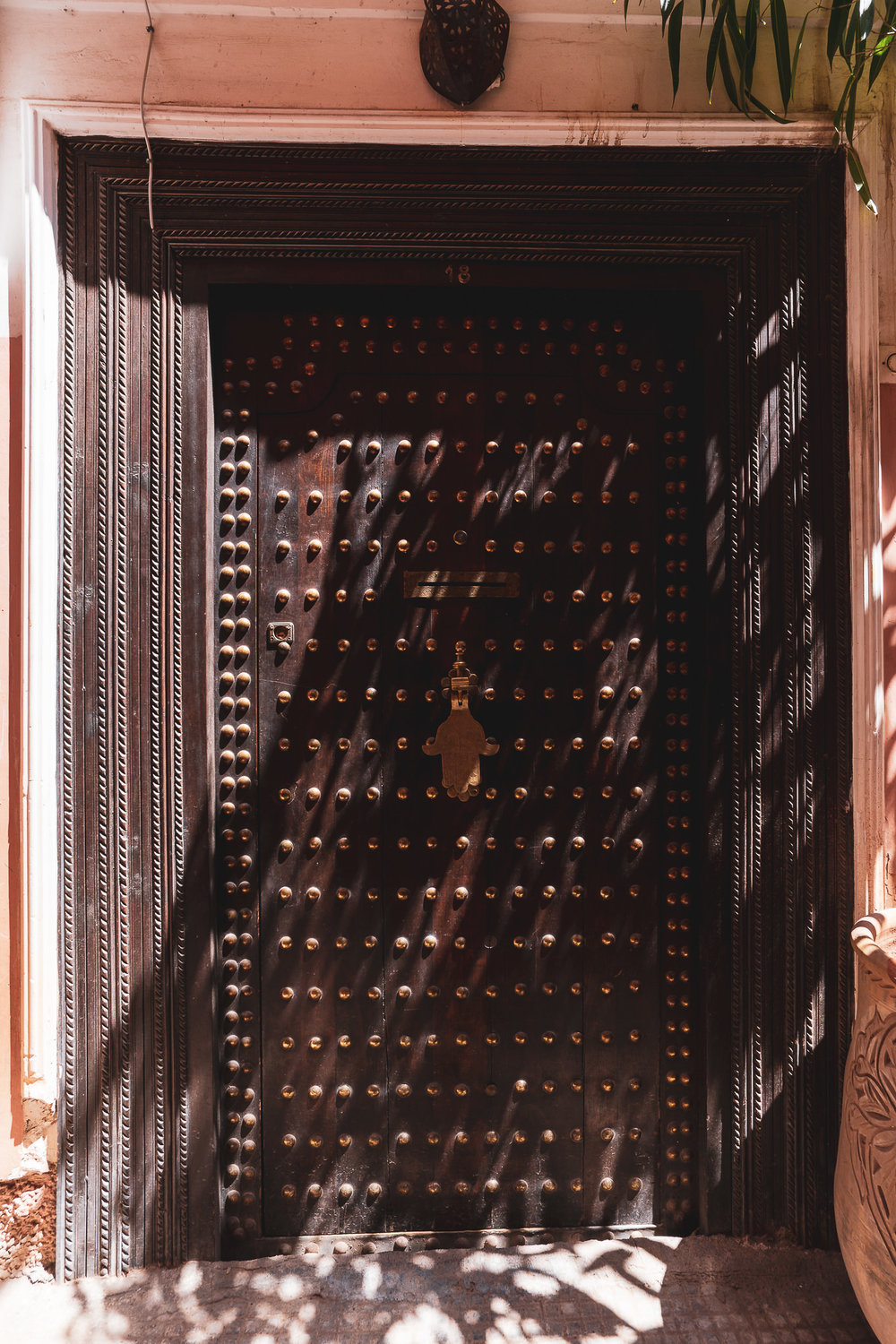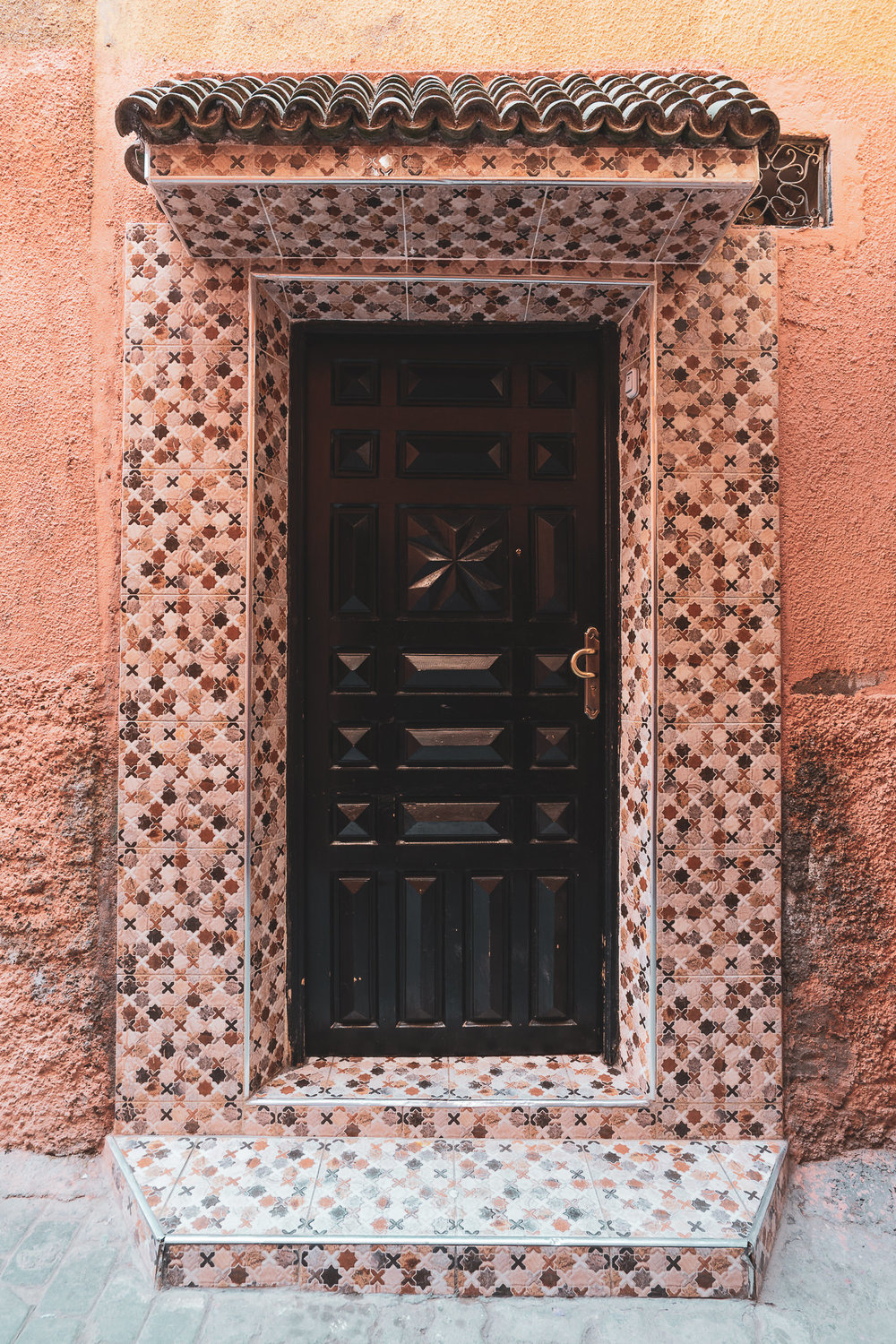 Tip #7
Try the delicious local foods every chance you get.
So, for example, tagines (earthenware pots; pictured below!) that cook anything from beef to chicken to vegetables. Then couscous, a Maghrebi dish made of a grain generally served with some stew on top. Harira, a local, lentil-and-tomato soup, and assorted Moroccan sweets, served especially during Ramadan and made mostly of nuts and honey. Last, but not least, the traditional and aromatic mint tea.
For affordable and tasty meals, try Niama Snack Resto.
Tip #8
If you're on a short getaway in Marrakech but still want to have an authentic experience outside of the busy center of Marrakech, we recommend you go for a quad adventure with Maroc Quad Passion, whether it's at the Palm Grove a few minutes outside of the city (the one we did), or the one at Lake Takerkoust.
They picked us up next to the hotel and transported us to where the excursion started, where they gave us all of the safety instructions and materials necessary for the ride. The trip through the Marrakech desert was stunning (as you'll see down below) with stops to admire the landscape, take photos, and drink a delicious cup of mint tea at a local house in the desert.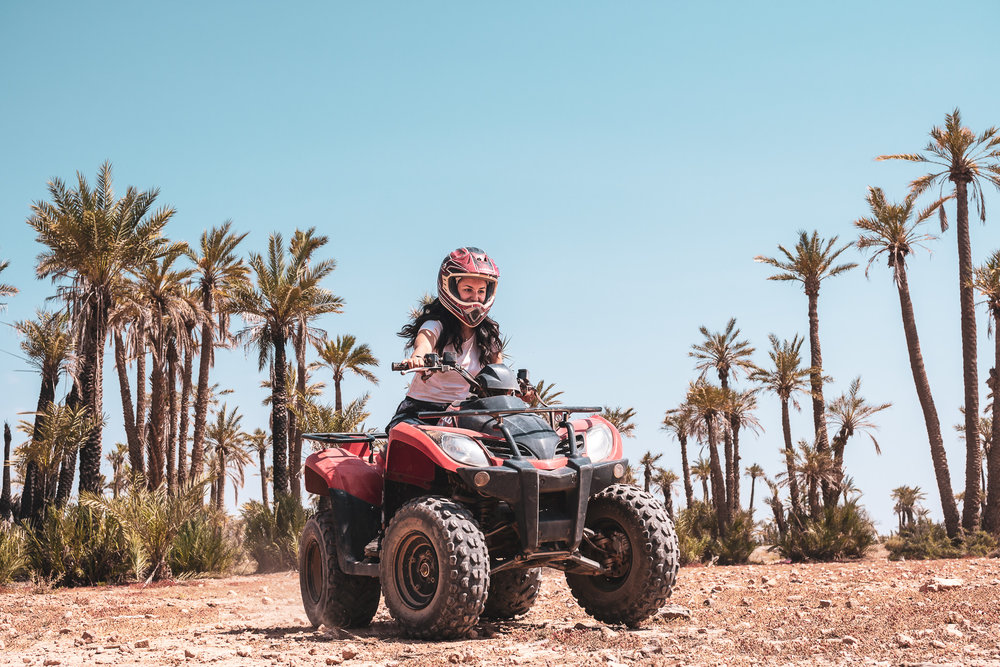 Tip #9
Stay at a local riad! These are traditional Moroccan houses, shaped in the form of a rectangle/square with a courtyard in the middle. We chose Riad Manissa to spend our three nights in Marrakech and it became one of the highlights of our trip.
Riad Manissa is a beautiful riad with spacious rooms, traditional decorations all throughout, spacious rooms, a small pool, and a fantastic breakfast. Our favorite part of the stay was the how cordial and amicable the staff was — they made us feel at home every minute we spent there.
Plus, this riad offers affordable prices with double rooms for a little bit over $50 per night. If you're staying in Marrakech, don't miss out on Riad Manissa!
Tip #10
I wouldn't leave the city (or the country, if you're visiting other cities) without experiencing a hammam. Moroccan hammams are traditional Moroccan public baths where men and women (in separate buildings), many on a weekly basis, come to rid their bodies of dead skin in steamed rooms — a cleansing ritual, basically.
Then, there are touristy hammams and local hammams, and if you want the authentic experience, I would recommend you to go to the latter. For around 5 dollars, I entered into the hammam, and the women working there scratched every centimeter of my body and discarded 28 years of dead skin off my body.
It's not the tidiest experience, especially if you're squeamish, but for me, this was probably the most memorable experience of our 10 days in Morocco. I could have spent an entire post describing this experience.
Tip #11
My final recommendation is that don't let that some harsh experiences in some souk or with some vendors bring you down and keep you from discovering the real Moroccan hospitality. Rely on the hotel staff for recommendations and indications, and let yourself find out the best the city has to offer.
If you have the time while traveling, give other, less touristy cities a chance (we visited Essaouira, for example). Doing this will give you a better perspective of the Moroccan culture, which is incredible!