Tenerife is one of the most popular islands within the Canary Islands in Spain. Because of its location to the west of Northern Africa and its subtropical climate, you can basically expect an endless summer (2018 was a little different though, but still!).
This paradise-type weather ensures that Tenerife continually attracts neighbors from the north of Europe (the English and Germans), who visit to escape the cold winters of their own countries. I'm writing this article from a snowy and wintery, 17ºF–England in March… So I completely understand their reasoning.
The massive influx of tourists usually occurs to the south of the island of Tenerife, between Cristianos beach and Costa Adeje, and although these areas are good if you're looking for beach and sun, they lack any kind of charm or local culture. During our trip, because I had already been in Tenerife two or three times, we decided to skip the touristy areas and visit some of the lesser-visited parts of the island.
So without further ado… here are 10 places you shouldn't miss when visiting Tenerife!
1.) Viewpoint Las Teresitas: To get the best panoramic view of Las Teresitas beach, drive uphill until you get to the "viewpoint of Las Teresitas." This is a 2-for-1, because you'll get some of the best views of both Las Teresitas and the black sand beach on the other side, Las Gaviotas. This vantage point was one of our favorites and if you're looking for a memorable place to take good pictures, this spot is for you! Not to mention, if you're there when it's empty, it can be immensely relaxing.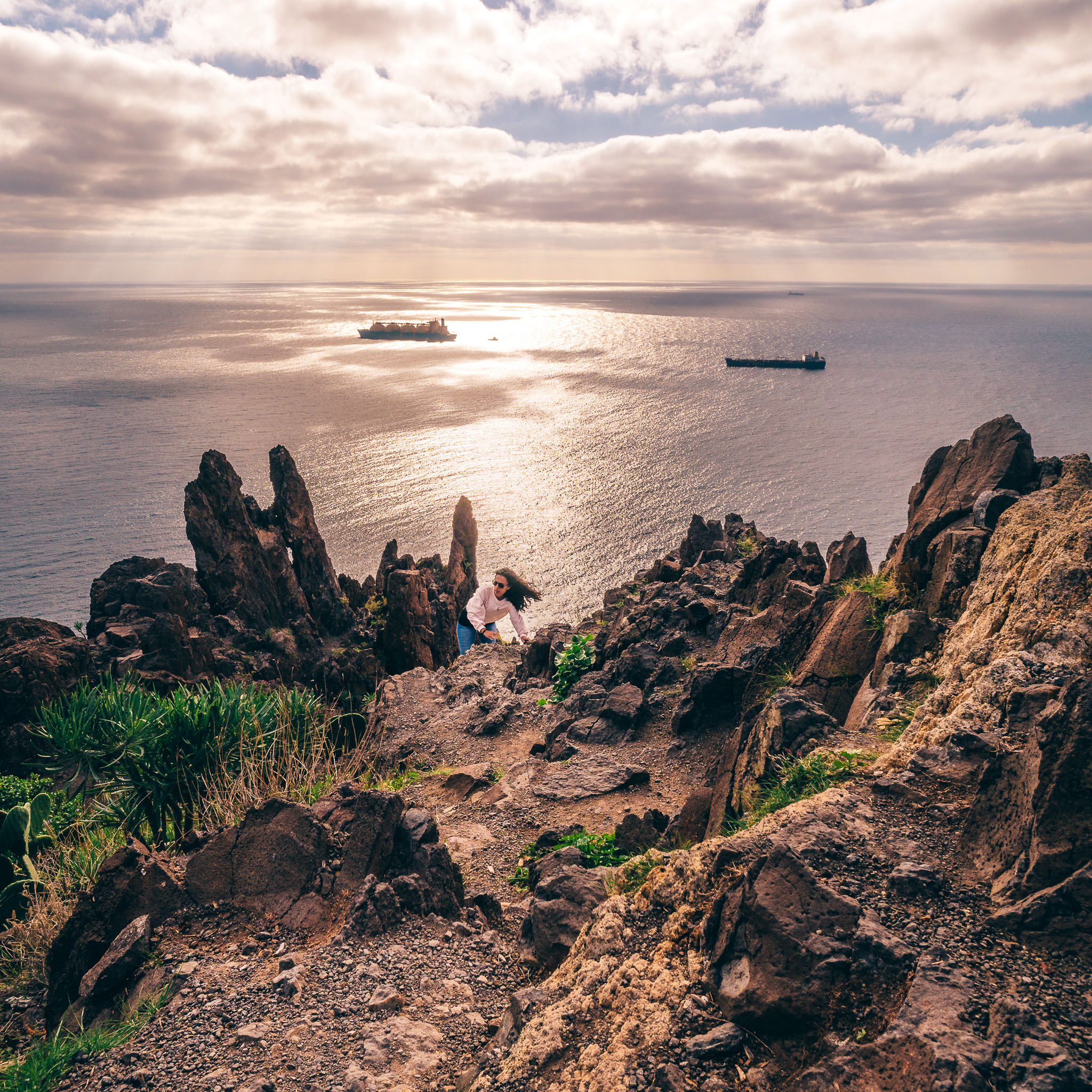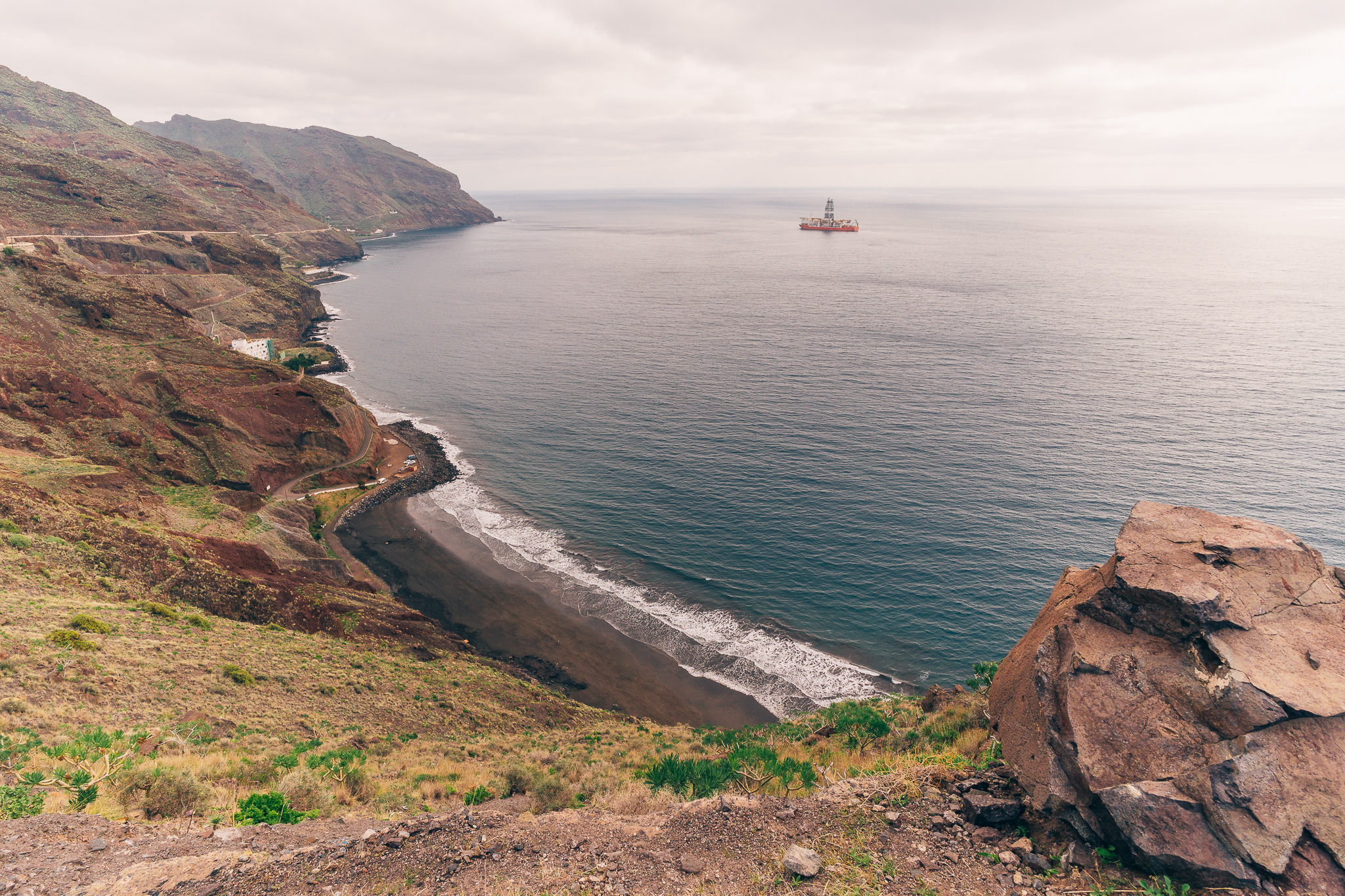 2.) San Cristobal de La Laguna: Only 30 minutes away from Santa Cruz de Tenerife, you'll find the colorful city of San Cristobal. We absolutely regret not have visited this city sooner! This place is full of pedestrian streets, liveliness, and endless houses full of colors. We also loved visiting the local market, "Mercado Municipal de San Cristobal de La Laguna," where you can buy traditional and fresh products of the island, as well as other exotic products! One stall that we found particularly tempting was Olio Gourmet, and had we had a little bit of extra money, we would've left with bags full of products from this place. Nevertheless, this city makes for the perfect day trip from Santa Cruz de Tenerife.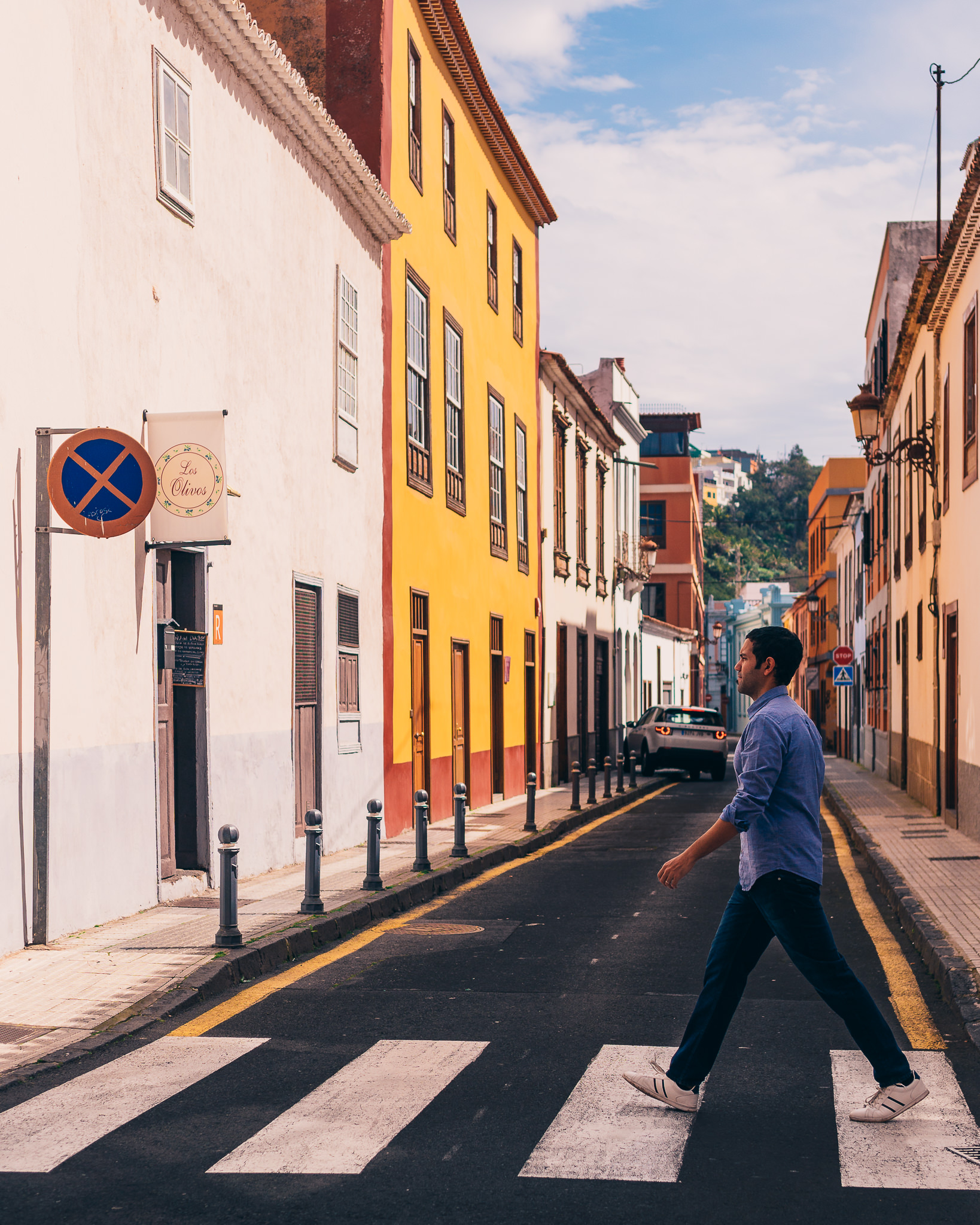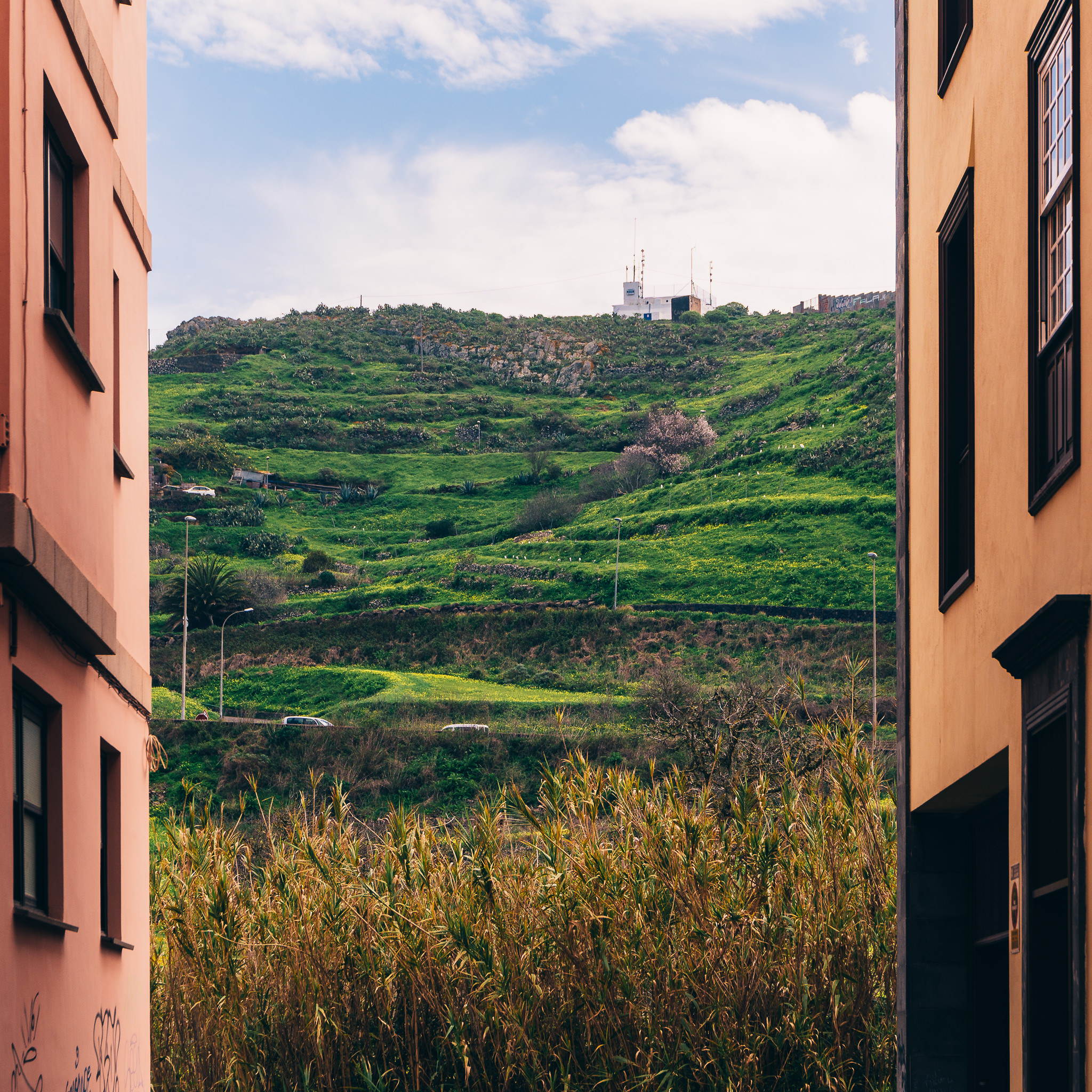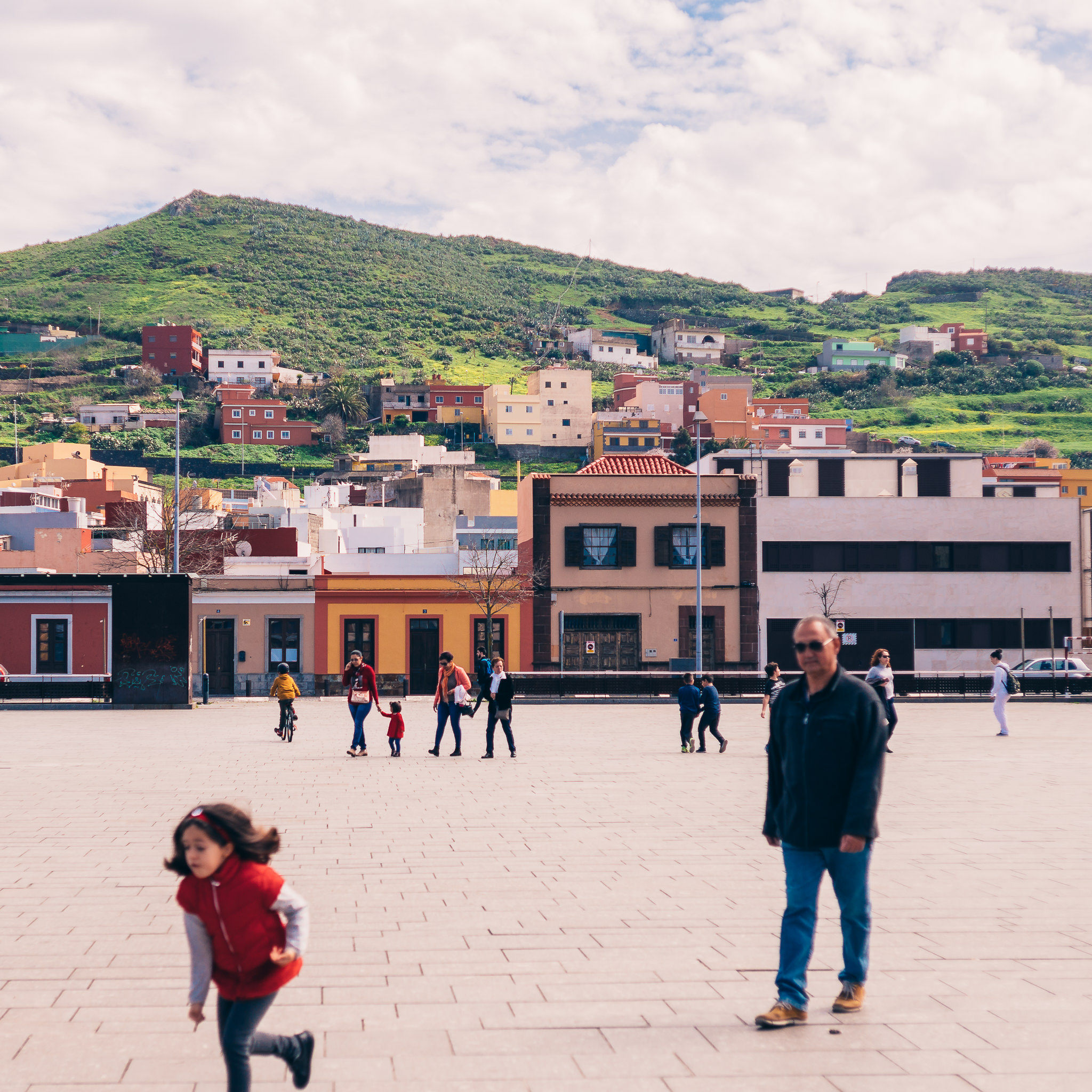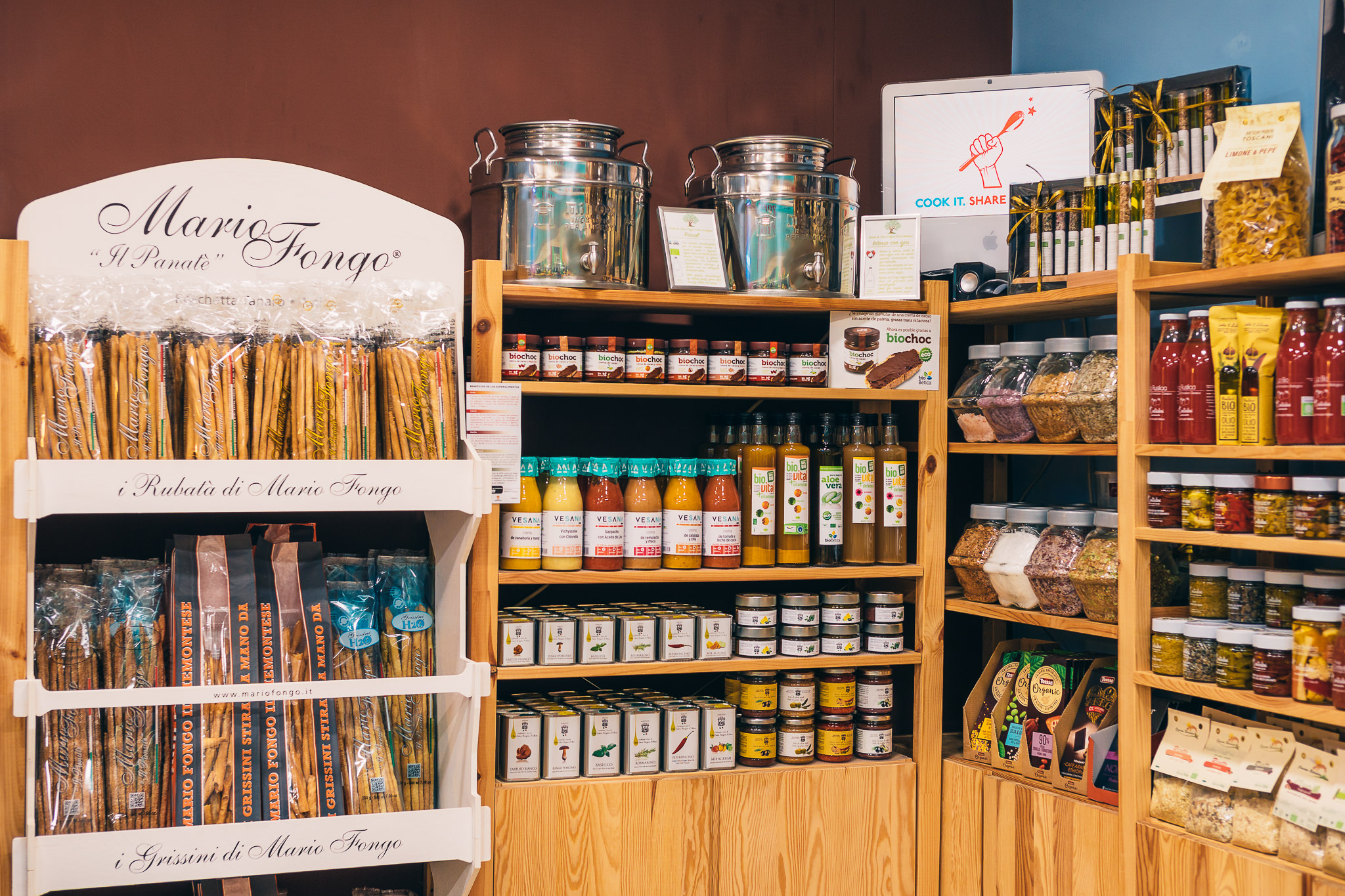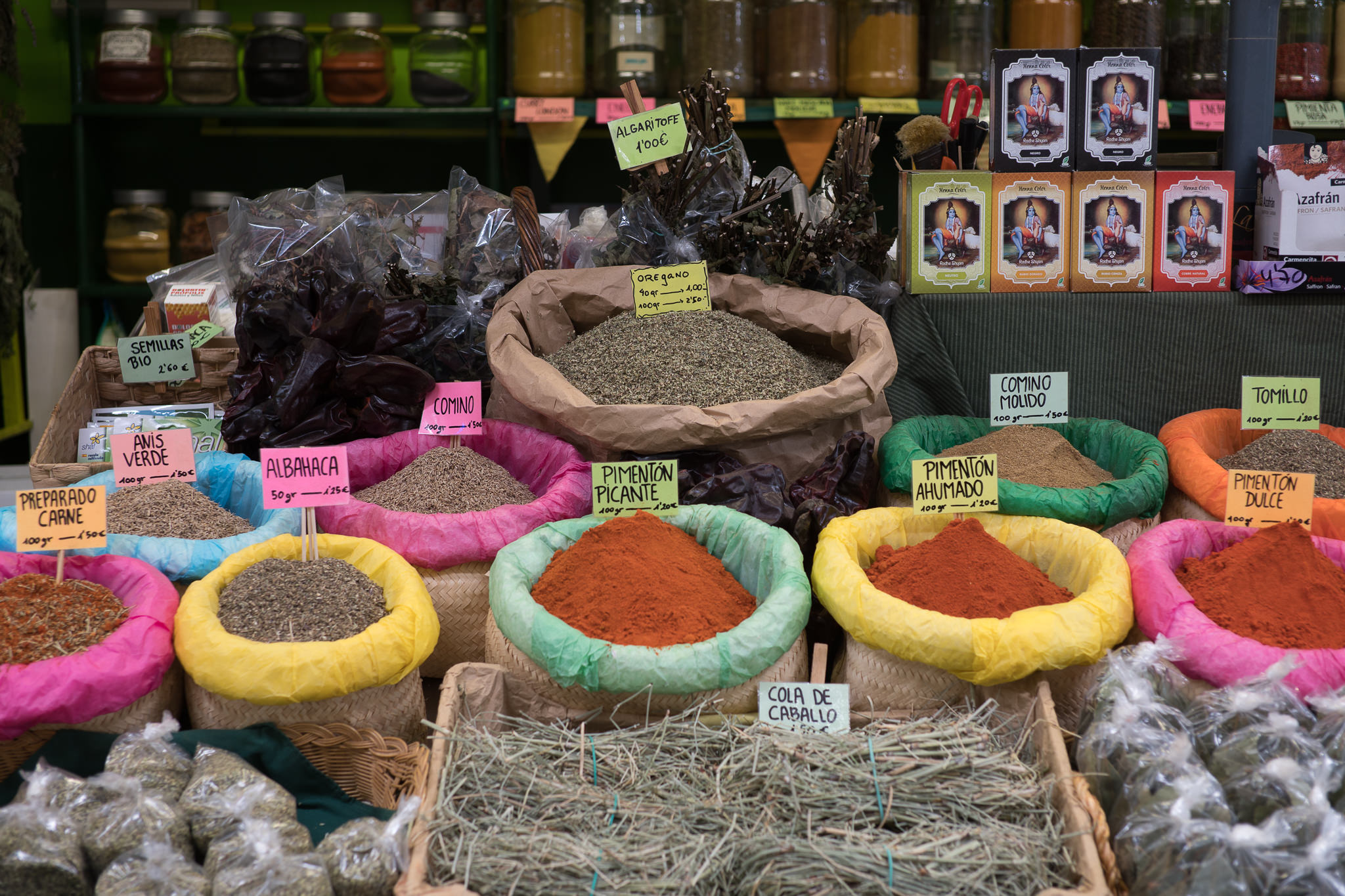 3.) Viewpoint Los Gigantes (Archipenque viewpoint): To the south of the islands, the huge precipices of Los Gigantes are one of the biggest attractions for tourists. This mirador, located next to the tourist beach areas of Costa Adeje and Los Cristianos, is a great point from which to admire these picturesque cliffs.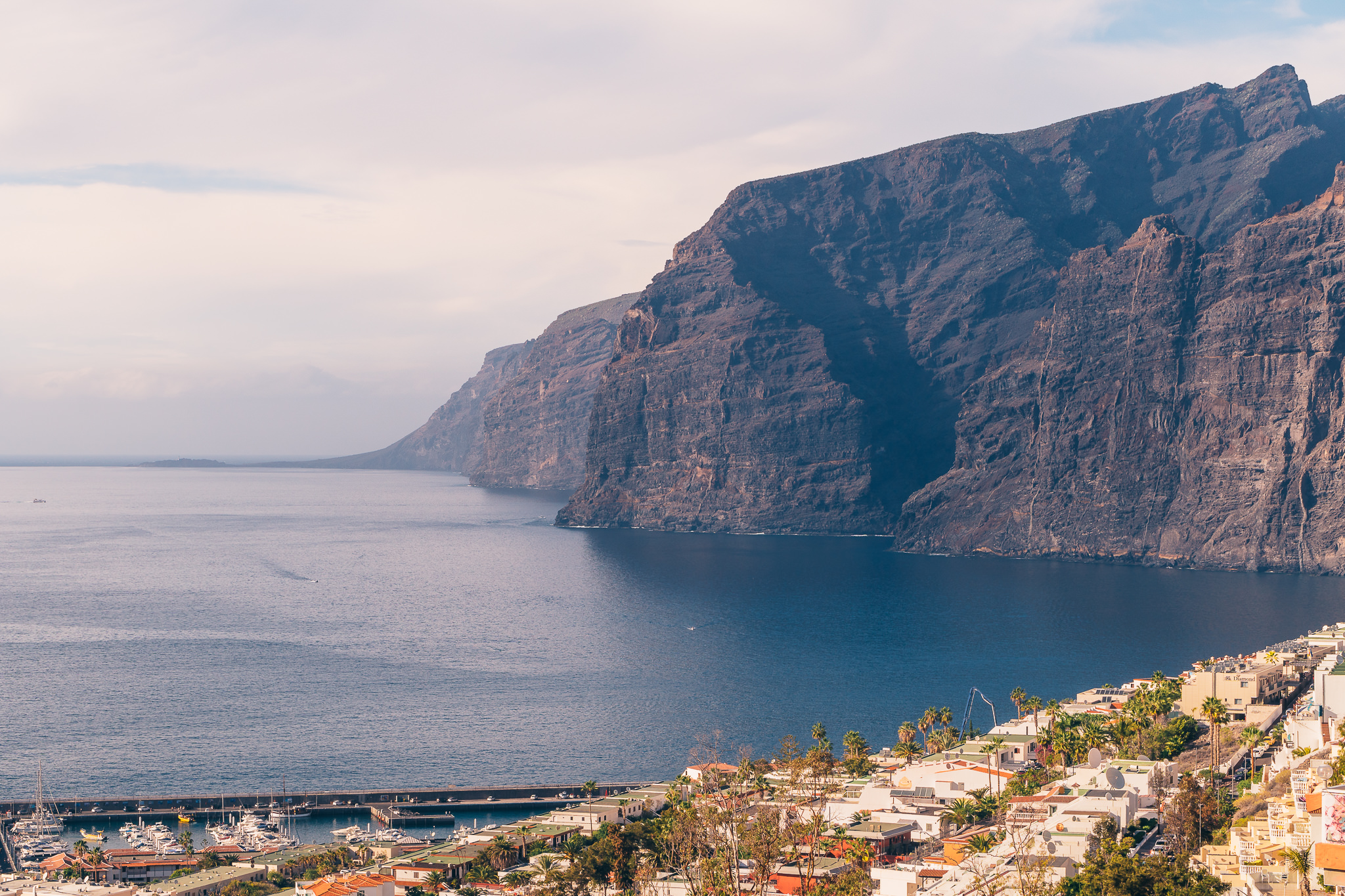 4.) Valle de la Masca: Getting to this viewpoint is a little challenging because of the narrow and curvy (and supposedly two-way) roads. First, you have to get to the village of Santiago del Teide. From here it's only about another 1.5 km of driving to get to Mirador de Cherfe, where you'll be treated to one of the best views of La Masca Valley. There are also buses that get to these viewpoints (there is another viewpoint down a bit further), but if you drive slowly and with caution you'll be fine. The landscape and view is completely worth it! For those of you who are adventurers, you can descend the Masca Valley by trekking and get picked up by a boat at the bottom that takes you to Los Gigantes beach.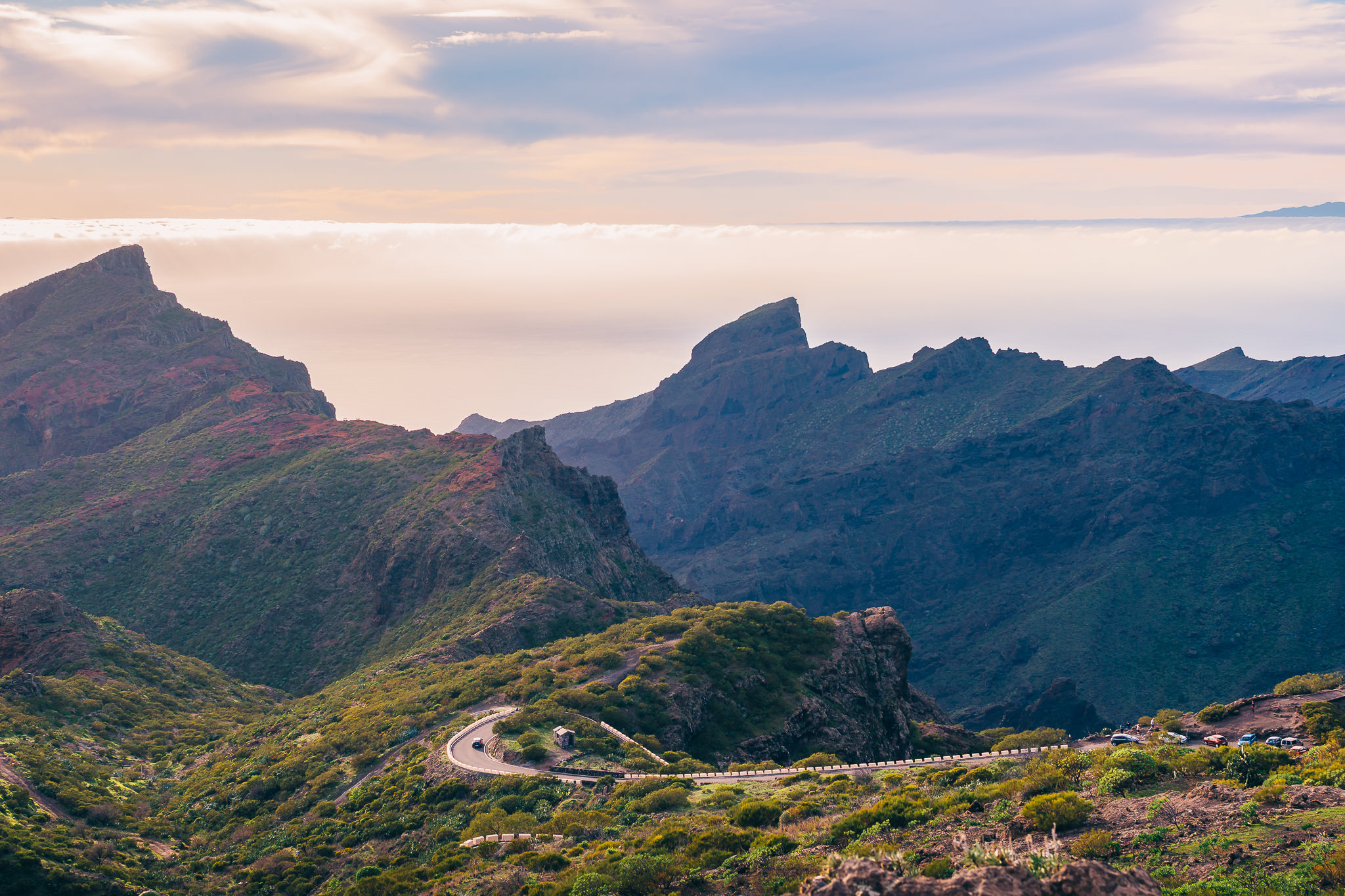 5.) Macizo de Anaga: With the highest point being over 1000m high, this area is one of the most beautiful and greenest places in all of Tenerife. Every couple of minutes that you pass a curve, your jaw will drop in awe. From here you'll have access to different viewpoints, small towns, and less-accessible yet gorgeous beaches, like Benijo beach.
6.) Benijo beach: This stunning black sand beach is on the north of the island, and was the most beautiful beach we visited on the island during our stay in Tenerife. Due to the bad weather, the beach was completely empty when we visited which made it even more special (although its distance from most touristy areas means it's likely to empty more often than not). There's also a small restaurant called El Mirador where you can drink or eat something with some of the most beautiful lunch views you have ever seen. Although… we ate at a nearby restaurant, Playa Casa Africa, because El Mirador was closed, and had a lovely inexpensive meal in front of Roque de Las Bodegas Beach.
7.) La Tejita Beach: Our first night in Tenerife, we stayed to the south of the island (near the airport), just a few minutes away from La Tejita Beach. If you want to feel like you're in a completely different place, this is it. The desert-like ambiance and characteristic large red rock at the end of the beach makes this a really unique place for your stay on the island.
8.) El Teide Volcano: Ok… although this is a touristy suggestion, I think it's still worth a visit. Unfortunately, we weren't able to visit during our trip because the cold weather brought about conditions that were unsafe to drive on (i.e. it was closed – apparently we got some of the worst weather in 40 years!) There are different routes that you can take to get to El Teide; the one we attempted and would recommend is to go up through the amazing valley of La Esperanza, and then going back by La Orotava. By going this route, you can visit 9 right after 8!
9.) La Orotava: This beautiful town in the northern part of Tenerife is perfect to visit after checking out El Teide; it's full of charming and colorful buildings, similar to what you'd find in La Laguna. While you're there, make sure to catch La Casa de los Balcones and its views out back! There are two buildings, and the one with the free entrance is the one with the gorgeous "backyard" views.
10.) Santa Cruz de Tenerife: Say hello to what was our home base for an entire month. Santa Cruz de Tenerife is the biggest city on the island, with over 200,000 inhabitants. While this may not be the city for you if you want to lay down and sunbathe, you will get an authentic impression of what Tenerife is all about and what "chicharreros" are (the people of Tenerife!). This is a lovely place to blend in and explore! While we were here, we especially loved the views from the Auditorium, as well as El Mercado de La Señora de África, and walking around Plaza España, Garcia Sanabria Park or the area surround the church of Concepcion. Of course, if you're visiting during the time of the Carnivals — one of the biggest Carnivals in the world by the way — you have to check them out in Santa Cruz de Tenerife. It's non-stop fun for over a week! We were fortunate to be there during and had the time of our lives.
Random Recommendations
Although the weather is almost always great, we came in on a cold month for Canary standards, so just bring one or two sweaters just in case if you're visiting during the winter

If you want to visit during Carnivals (and let's be real, you should be!), book your accommodation way in advance. Everything gets pricy during those dates.

Rent a car to explore the island and enjoy all of these places on your own! For cheaper prices, rent a car at the airport.

As far as desserts, try lemon and orange roscas! Custard egg yolk dessert is also really common and delicious!

If you want to eat fresh seafood or a delicious paella, make it out to Delicias del Mar, in the small town of San Miguel de Tajao. Just make sure to call a day before to place your order.

Try papas arrugadas (wrinkled potatoes) with red mojo and green mojo (cilantro sauce and red pimienta)