If you want to save a couple hundred dollars on your next vacation, there's nothing better than planning it yourself. I've been planning my own vacations since I was a teenager and because of that, I've been able to maximize every travel dollar I've had.
One of the things I'm most frequently asked is: How did you find that flight/hotel for so little? Well, its basically three things:
Tools. I'm always looking for a good deal using my favorite travel tools. Keep reading to find out what those are!

Flexibility. I try to be as flexible as possible on travel dates.

I know that this can be a little more difficult for some than others, like those of you with families; in this case, my advice is to constantly search until you find a good deal on your predetermined dates.

Decisiveness. When I find a cheap flight/hotel relative to what I've been seeing on other days I've searched, I don't think about it twice. A lot of times, companies lower their prices drastically and these dips in prices can last anywhere from a few hours to a couple of days.
There are tons of different resources to find good deals on flights and hotels for your vacations, but I've been using the same ones over the years because of how much I like them and how dependable they've been. Everyone has their favorites, but here's a list of the ones I think are the best:
Flights
Google Flights: This is what I've used on almost all of my trips for the past 4 years. Google Flights will help you search for, compare, and track flight prices across different airline companies. It makes finding flights super easy, providing you with a calendar that shows you the best time to fly by marking the cheapest days in green. Google Flights also shares insider tips that will let you know what days you should travel/return on to save the maximum amount of money. Lastly, you have the option of tracking a particular travel itinerary so that you know when to book the flight at its best price.
Skyscanner: It took me a few years to discover this tool; its standout feature is the number of options it gives you if you've got flexibility. If you're going on a vacation and you're not sure where to go, Skyscanner has a "Everywhere" option as a destination, and the search results will return in a low-to-high price order, showing you the cheapest countries (and cities) to visit. You can also customize which days to travel on, choosing your preferred month to get the cheapest day, or just searching for the cheapest month of the year to travel to a certain destination. Skyscanner is best for those of you who might not have a fixed destination or travel dates in mind and just want to travel. If that's the case, use Skyscanner to save money!
Kiwi: This is my latest discovery and I love it. I still haven't made any purchases with it yet, but I have been using it to check our upcoming trips. Kiwi offers more visuals, offering an "Anywhere" option (with a map showing you the cheapest places to visit) and a "radius" option that is particularly helpful, as it lets you choose a radius on the map within which Kiwi will search for the cheapest flights. It is also very useful in helping you choose the best option/combination when you have a flight with layovers.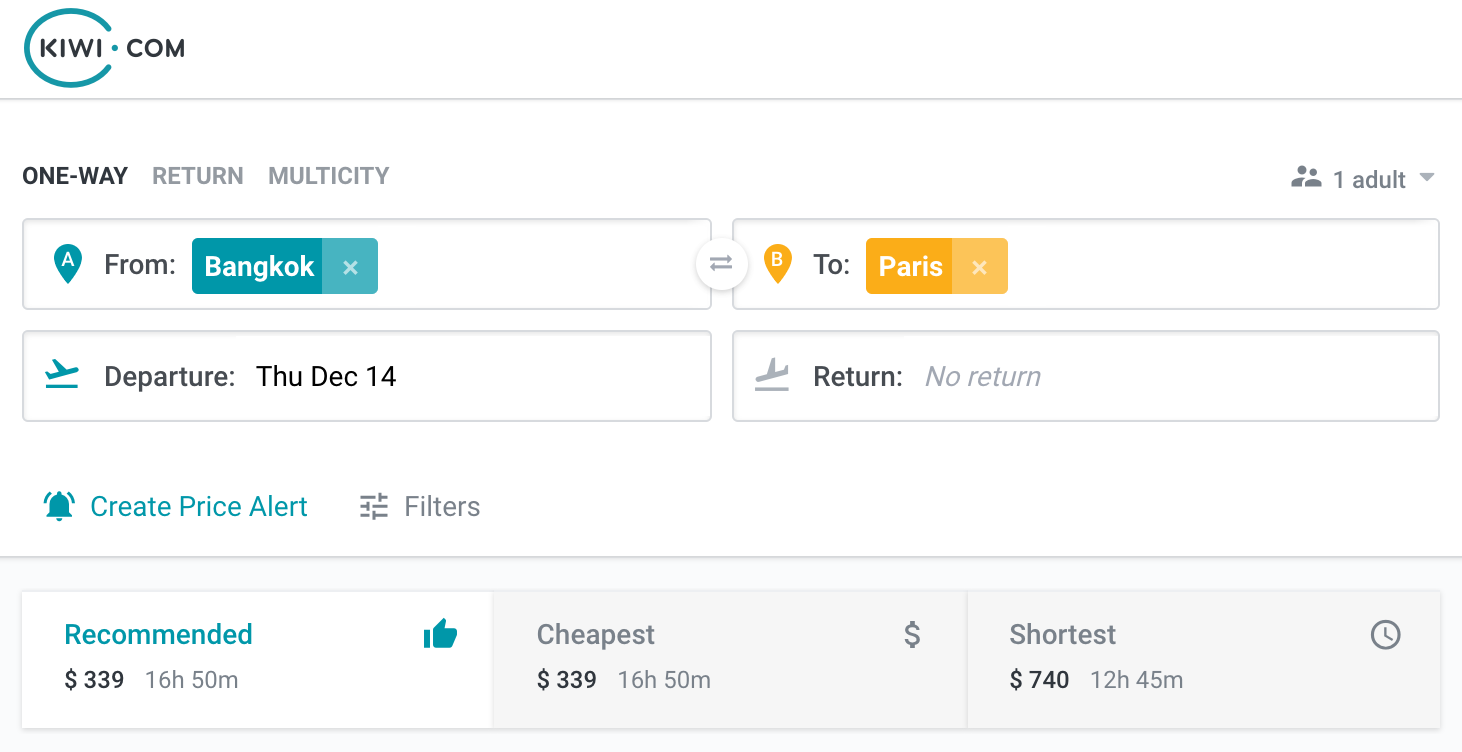 Save Money on Accommodation – Hotels, Guesthouses, and Hostels
While choosing the right flight on the right date can save you a ton of money, you still have to find a place to stay at your destination! Here are my favorite tools for finding and booking accommodation on the cheap.
Booking.com: This has been my main accommodation search accommodation for at least 8 years now. Here you can find anything from 5-star hotels, hostels, to guesthouses that start for as little as $4 a night.

After using Booking.com for a certain amount of time, they grant you a "Genius" status, which gives you access to 10% discounts when booking certain properties as well as other complementary benefits, like early check-in/late checkout, occasional complimentary welcome drinks, etc. More than anything, this has saved me a good amount extra through the years.

Most of the accommodations on the website give you the choice to book with the option for free cancellation until a few days before your trip. This takes a lot of the risk out of the equation!

Booking.con has a really great and easy system to manage your bookings, deal with cancellations, change dates, communicate with the properties, and just about anything you may need to take care of within just a few minutes.

Bonus! When you book with Booking.com, they will often send you a very helpful guide based on your destination. They don't have one on every city, but it's available for most of them. Lastly, they also have a referral system, where you can make money for use on their website just for referring friends!
Agoda: I use this as a secondary search engine because it is similar to Booking.com in its function. You can manage your accommodation bookings with them through their website and in most cases, you can also make reservations with free cancellations.

It's always a good idea to check both of these tools to compare prices, because a lot of times the properties will provide a promotion on only one of these sites.
Hostel World: This tool is perfect for people looking specifically for a hostel. Here you'll be able to find most hostels available, and it'll show you different prices depending on the kind of room you want. And like I mentioned before, it's a good idea to check on the other search engines as well, just in case you can also find the same hostels on there for less money. Always double-check prices before booking!
Airbnb: Many times, one of the cheapest forms of accommodation is renting an apartment or room from people living at your destination. Airbnb offers apartments, private rooms, and shared rooms at some of the best prices we've been able to find. It often also offers the opportunity to interact with locals and have a slightly more authentic experience. It was our first resource while traveling in the US and I'm sure that it will be as helpful in our European adventures to come!
We hope that these tools work for you as well as they have for us!
If you've got any websites or resources you like using when planning your trips, let us know in the comments section below!
Now... time to plan our next trip!