If you're looking to visit a place with endless possibilities, London is your best bet.
In the past two months in England, we came back to London on three occasions and even ended up extending our final stay in the city. Each time, we had to make sure we found things to do in London on a budget so that we could enjoy our time fully without diving face-first into immediate bankruptcy. And so that's what we did — here's a list of some of the best things to do in London on a budget!
Visit as many museums as you can: There are so many! Although London isn't the most budget-friendly place in the world (especially if you come in carrying US dollars), one of the best things about it is that museums are mostly free to visit. There's The British Museum, Tate Gallery, Victoria & Albert, the National Gallery, Natural History Museum, Science Museum, National Portrait Gallery, and others. Most of them close around 5:30–6:00 PM, and you can visit them for free or leave a donation if you'd like.
Late-Night Museum: If you're more of a night owl, experiencing a museum during the night time is also an option in London! Several museums open once a month at night, with special programs and exhibitions: perfect if you want a different kind of museum experience. Something you might keep in mind is that certain exhibitions or parts of the museums might be closed during these special nights; at the same time, special talks, workshops, music, and food will also be available during these late-nights at the museum. Snacks, drinks, and food are on the cheap side however, so if you're on a budget like us, have dinner after or before your visit. Here are the links to some of the "late" museums: Natural History Museum, Tate, Victoria & Albert.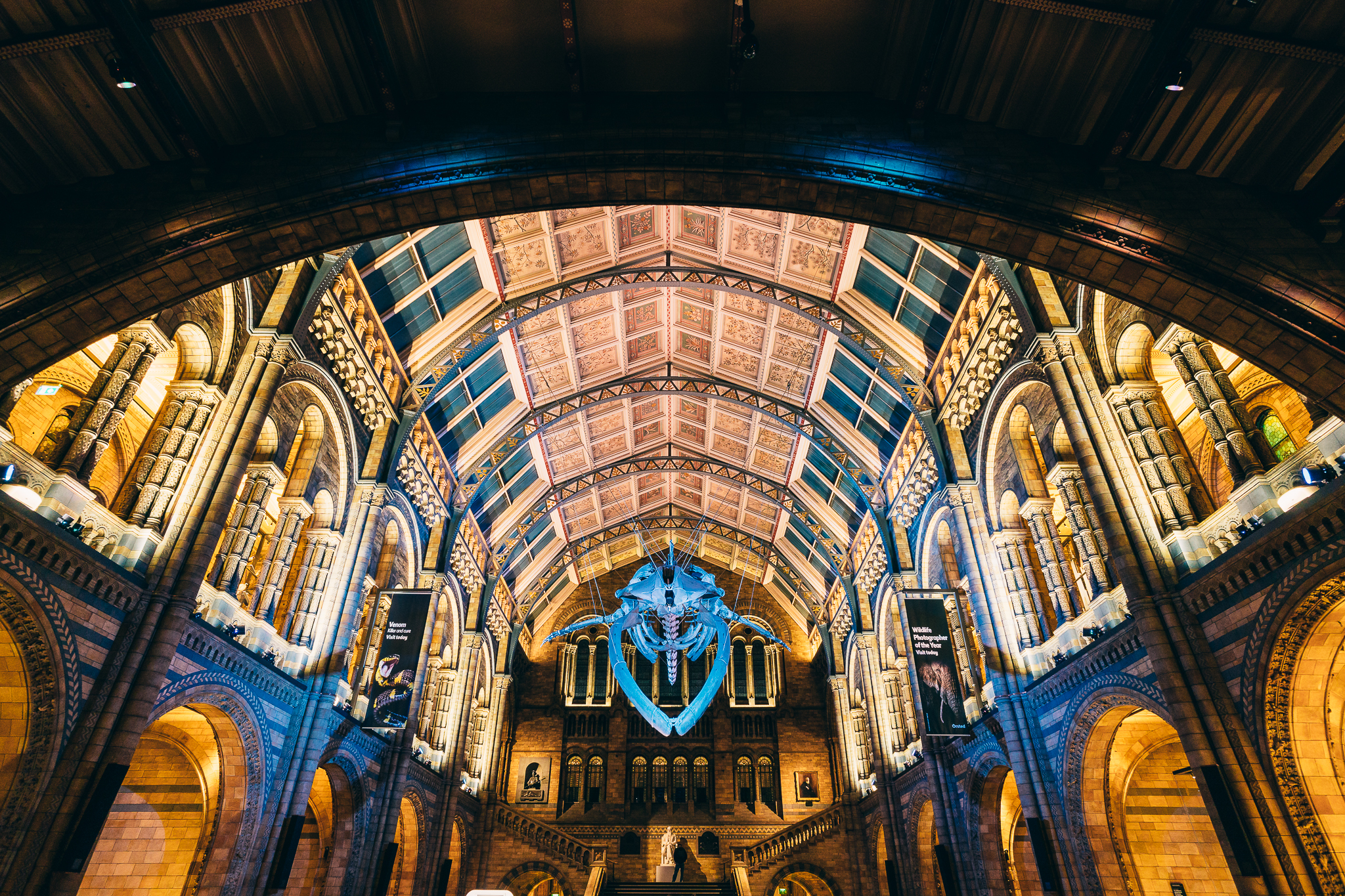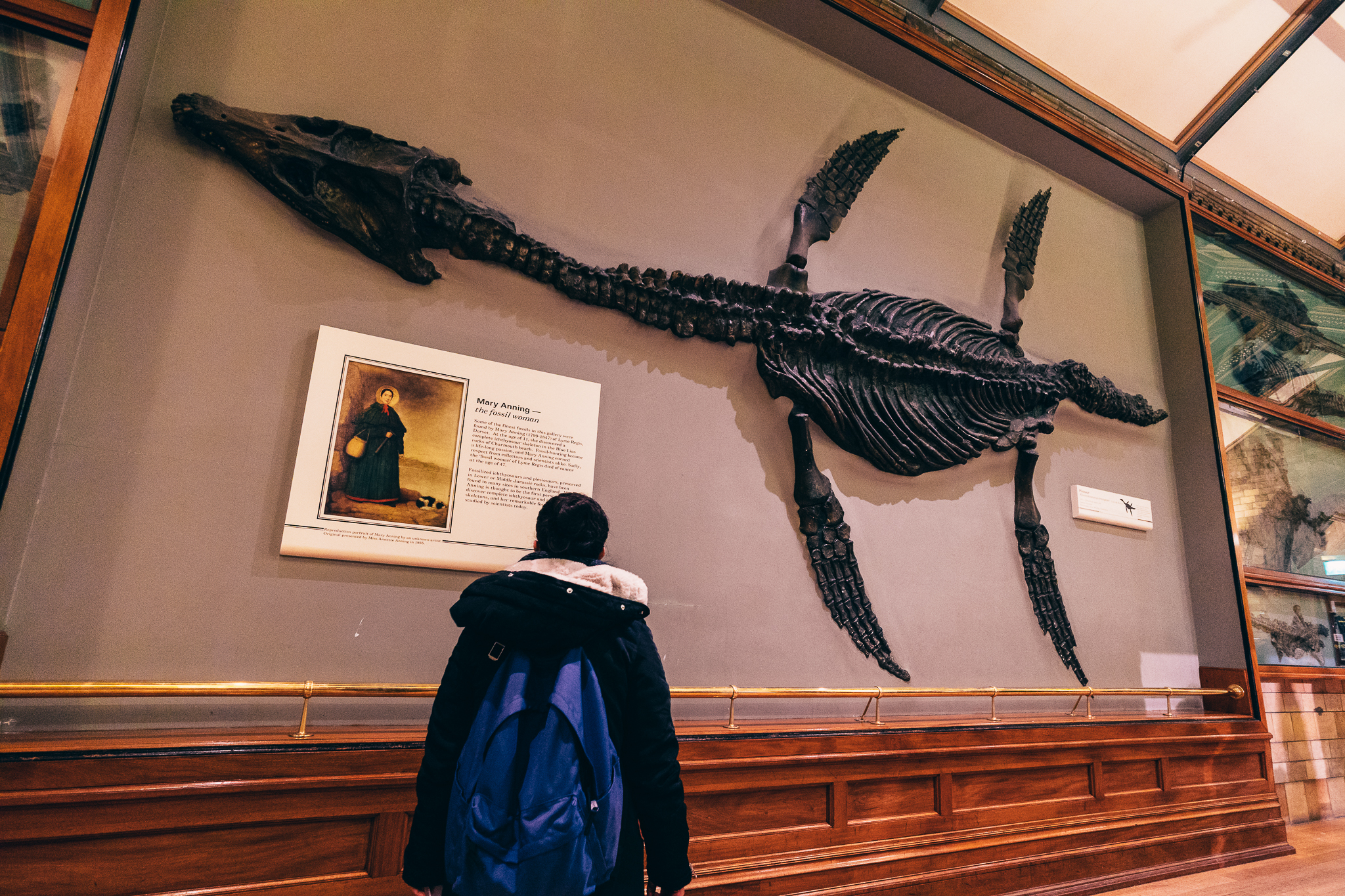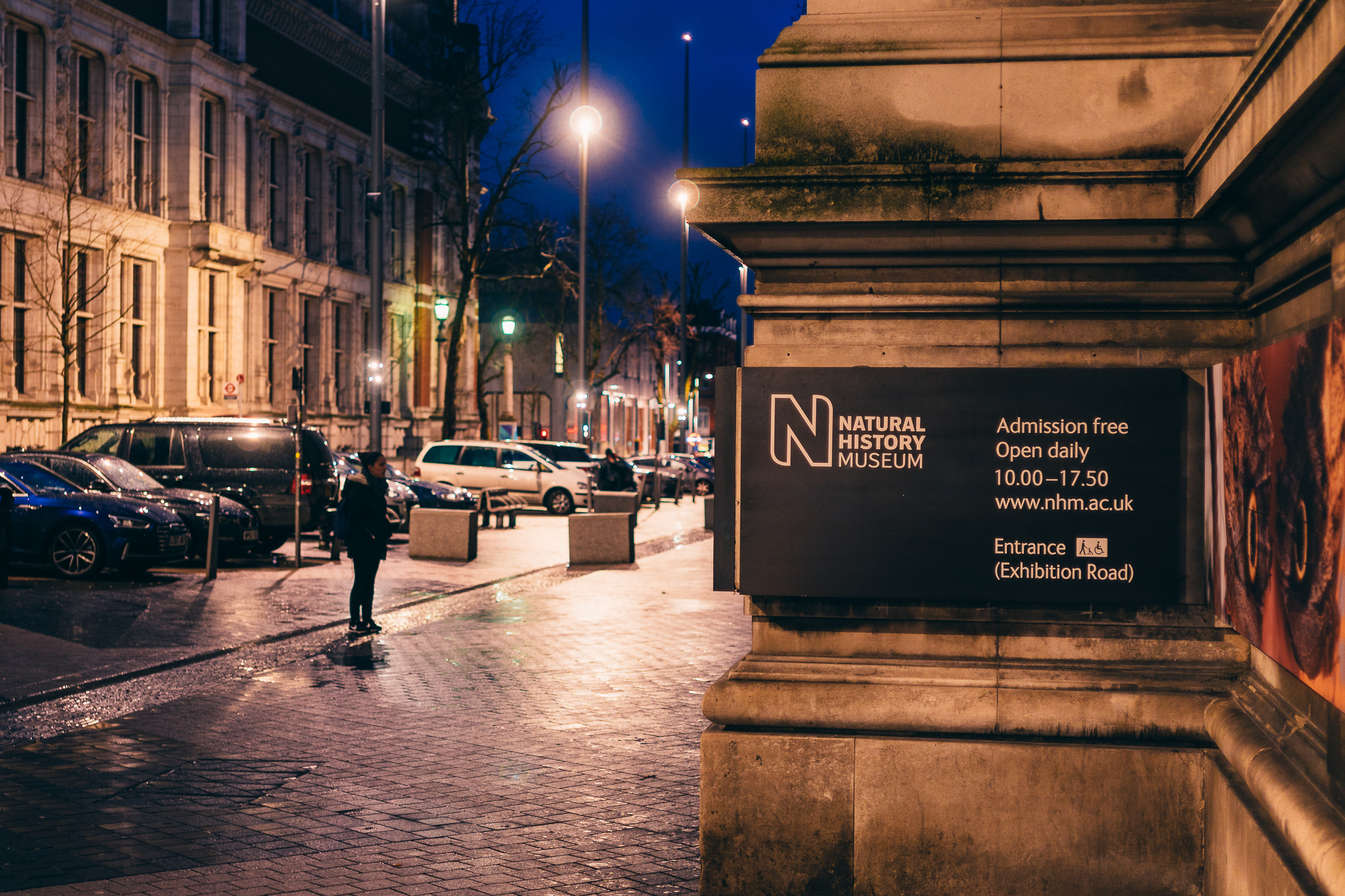 Free walking tours: These tours are always a good idea when you get into a new city. Taking advantage of this budget-friendly option is one of the best ways to get to know a city, especially when it's one as expensive as London. We took a total of 4 free walking tours in London with Free Tours by Foot:

Food Tour East London
Harry Potter
Jack The Ripper
Camden Town
There are several more to do and we'll write about each of these in a future article. As always with free walking tours, there is no charge; but, whatever tip you can afford to leave afterwards is obviously always appreciated, as the people running these tours absolutely deserve it!
Visit a speakeasy: Getting into one of these "secret bars" was a new experience for both of us, and one that we found to be a lot of fun. There are several secret bars in London and most of them are (mostly) only known by locals, which makes them all the more unique and less touristy. We visited The Breakfast Club (the one on Artillery Lane) and accessed their secret bar through a refrigerator. Yes, you read that right: a refrigerator. In their quiet restaurant, there's a normal-looking refrigerator door that takes you a few meters downstairs into a cozy, alternative, and underground bar/lounge. To visit this place, the only thing you need to do when you walk into The Breakfast Club is say that you want to see "The Mayor" and in a few minutes, someone will lead you down into the bar. The only way to visit these speakeasies is to know about them via word-of-mouth (or Google!), because it isn't advertised anywhere. From what we experienced though, everyone visiting, whether a new or usual customer, loves it! Especially when it's as original as The Mayor is.
Have a meal (or two) at Borough Market: There are tons of food markets to visit in London, but Borough Market was one of our favorites. This market is huge and is the oldest in London. There's food everywhere that's ready to eat, fresh products that are ready for you to take home, and different events going on every month: This place will awaken all of your senses with foods from all over the world. Borough Market is located southeast of London, just a couple of minutes away from London Bridge.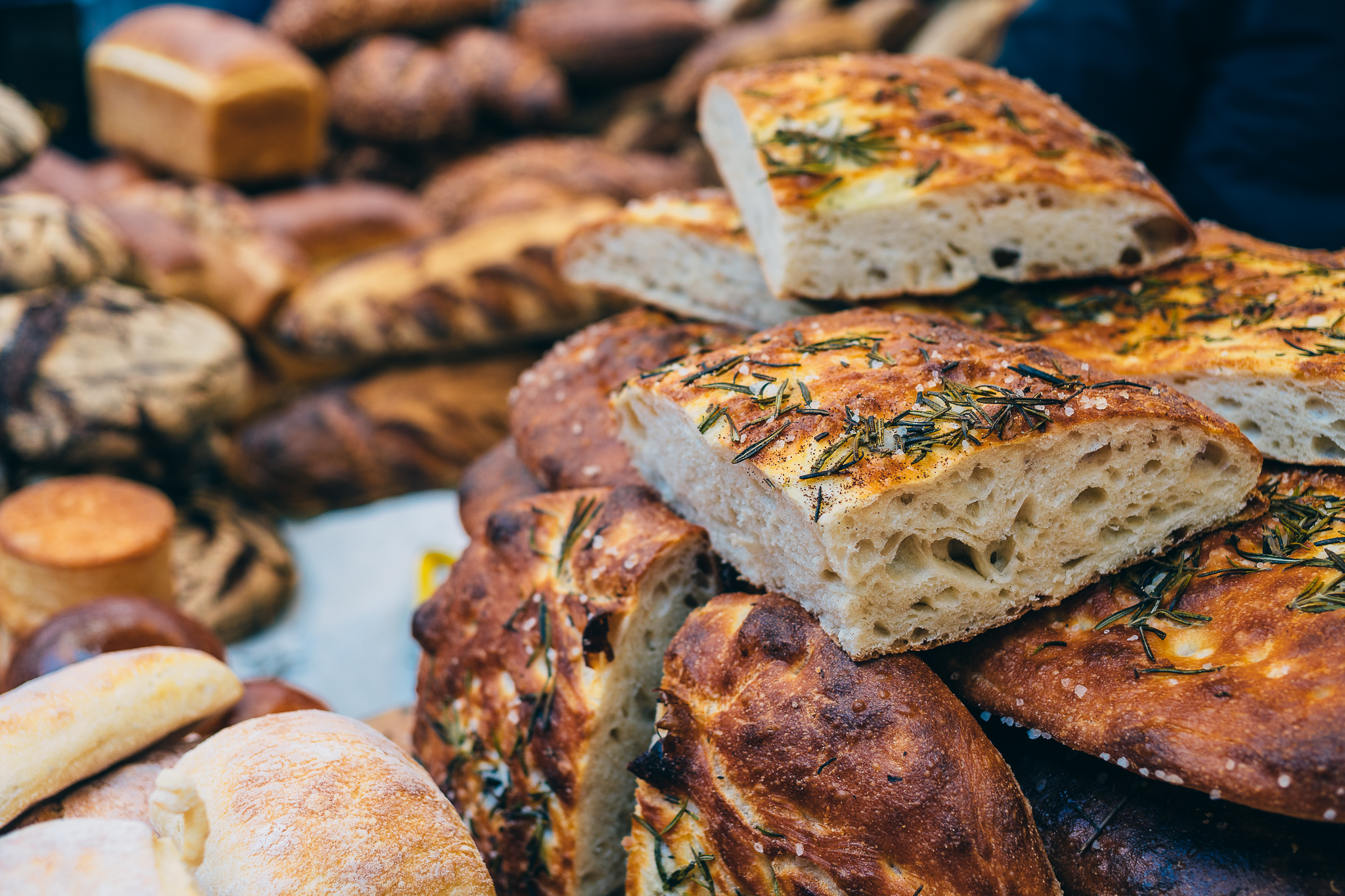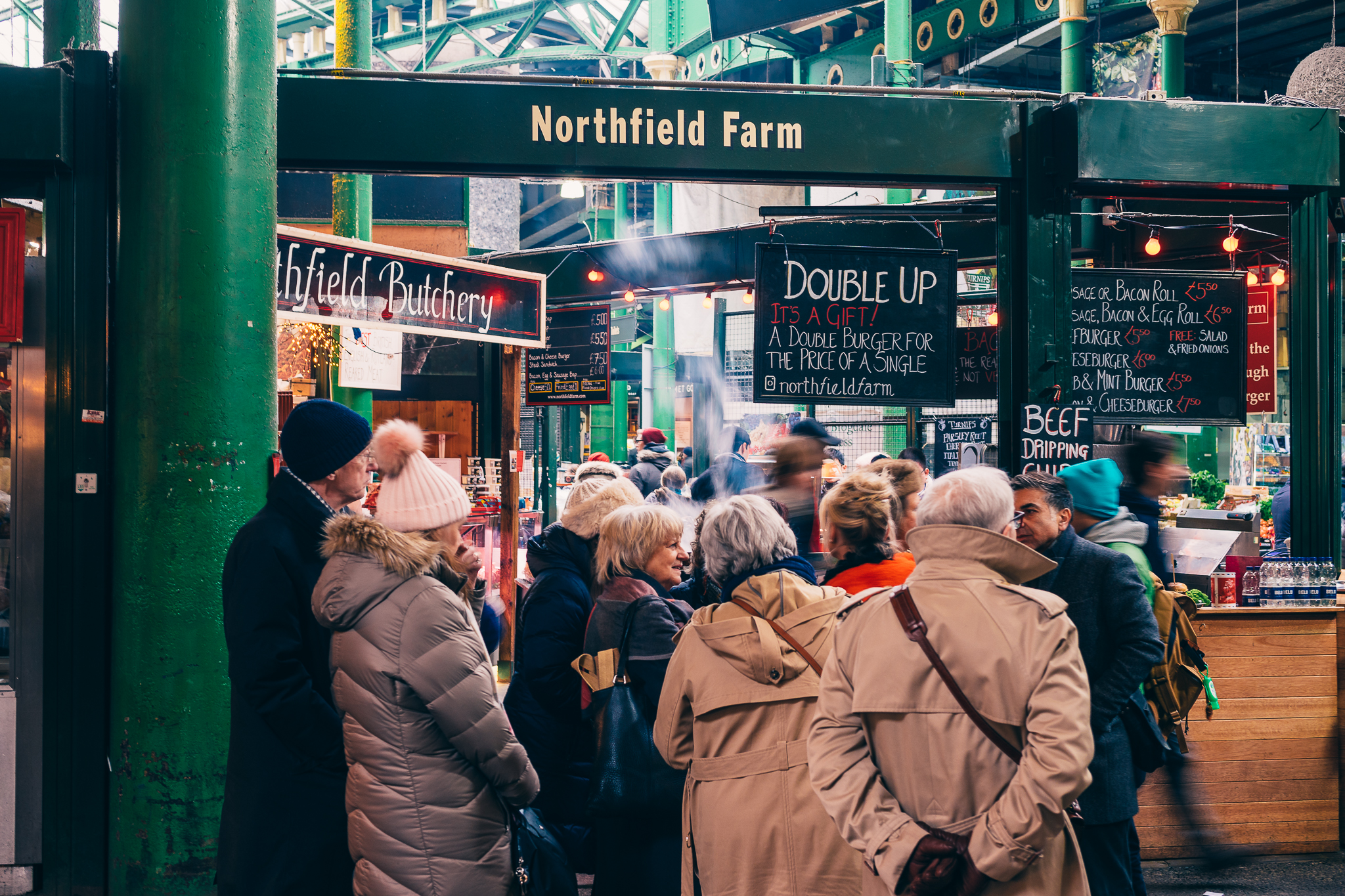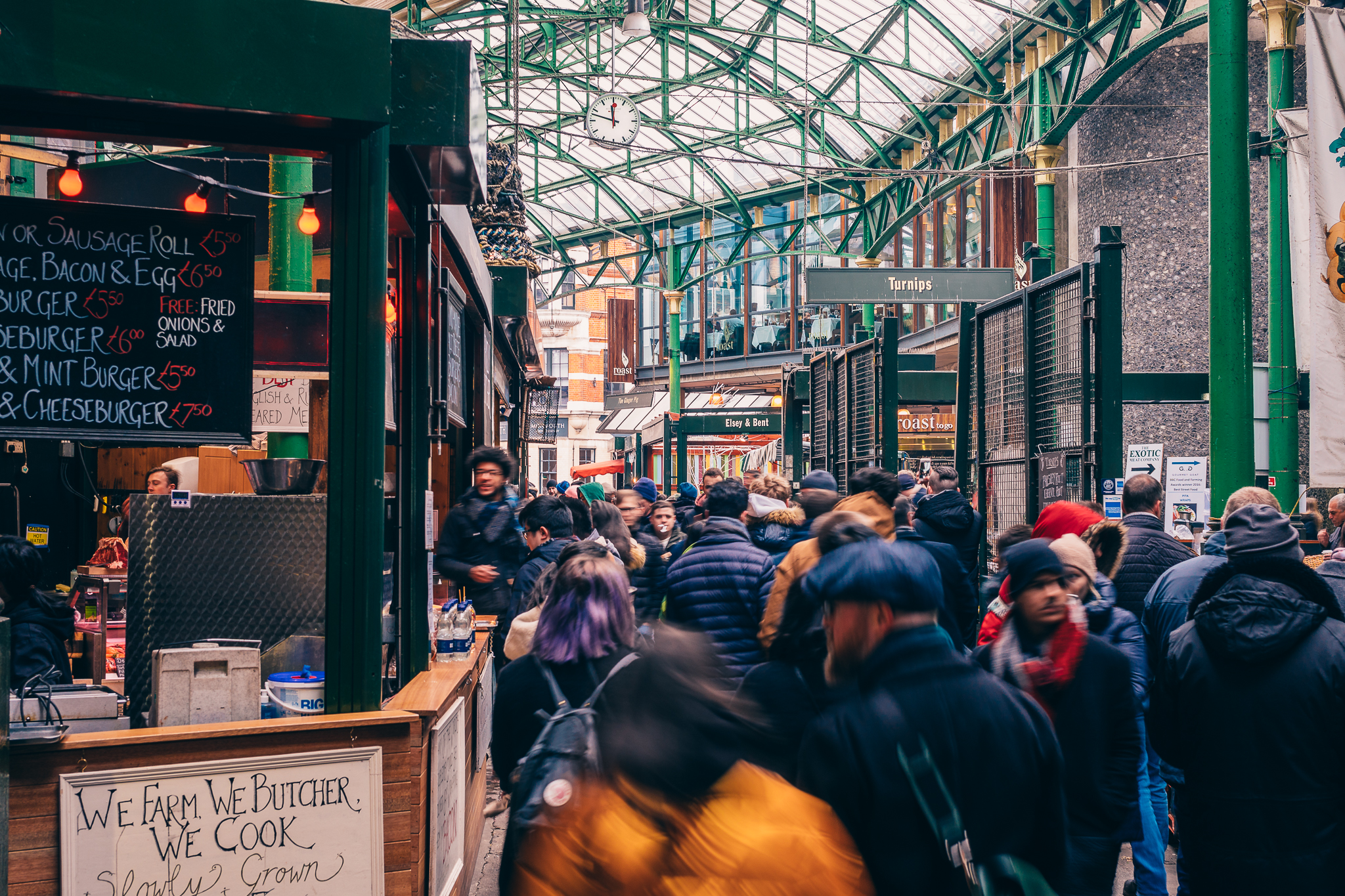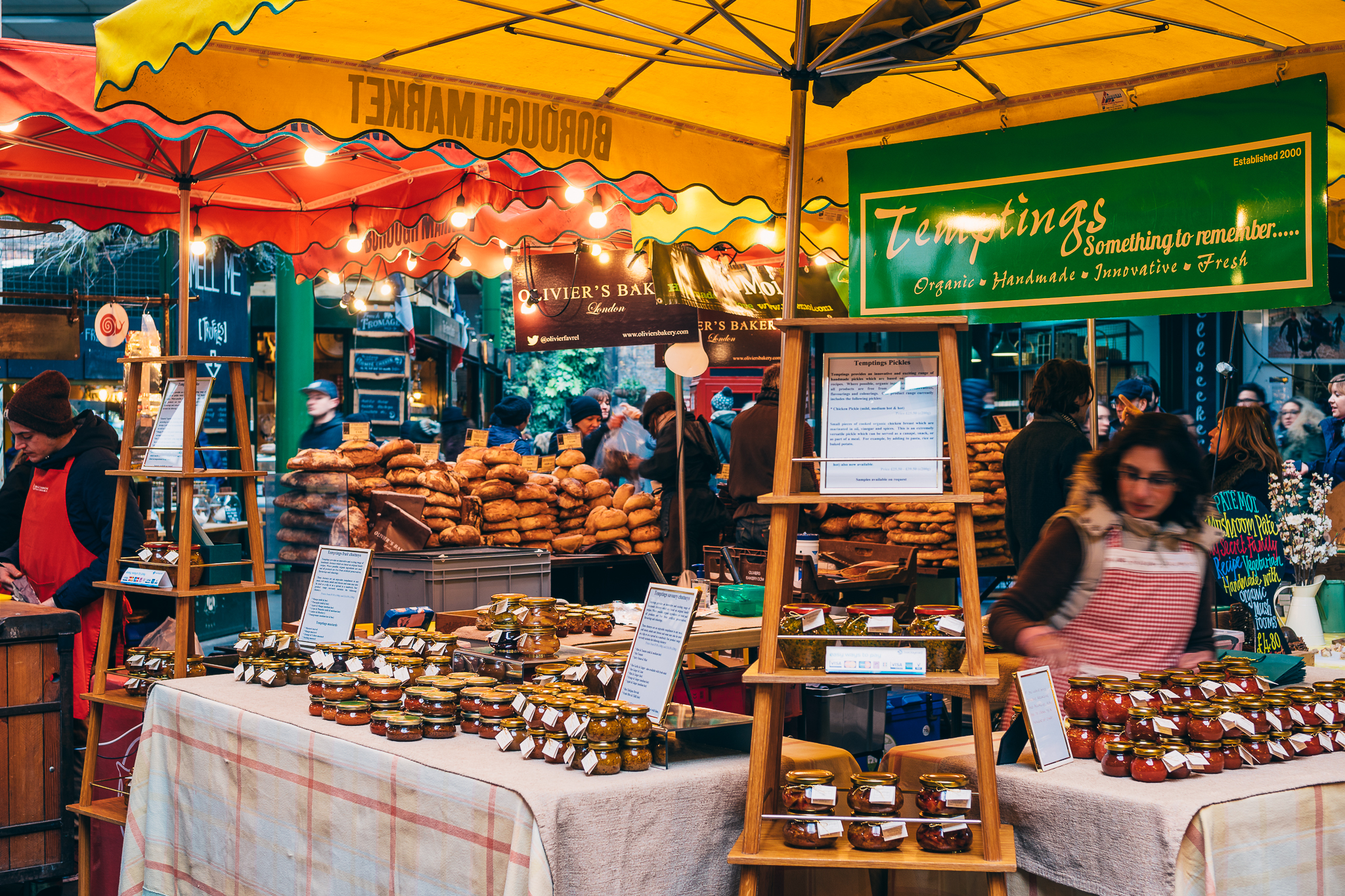 Go through all of Camden Town: This was, without a doubt, one of our favorite places in London (as it is for almost everyone who visits it!). This alternatively styled neighborhood is the bedrock of some of the most iconic music to come from London, with bars and pubs where iconic bands likes the Sex Pistols, Pink Floyd, Blur, Oasis, and Amy Winehouse first performed. Besides its music history, Camden Town is also characterized by its extravagant and interesting decoration (with enormous boots and character moldings just hanging off the sides of buildings), for having all kinds of leather-jacket shops, a historic Dr. Martens boots store, and most importantly: Camden Market. This quirky market is full of stalls with all types of foods and shops, selling fresh and hand-made products all over the market. You'll be entertained for several hours and in the meanwhile, will probably come across some unique people (like the Thai food vendor singing Frank Sinatra and all other sorts of classic songs... if you've been to Camden market, you probably know who we're talking about!). This entire market is also connected to the similarly fashioned Stables Market, where you can find even more delicious food!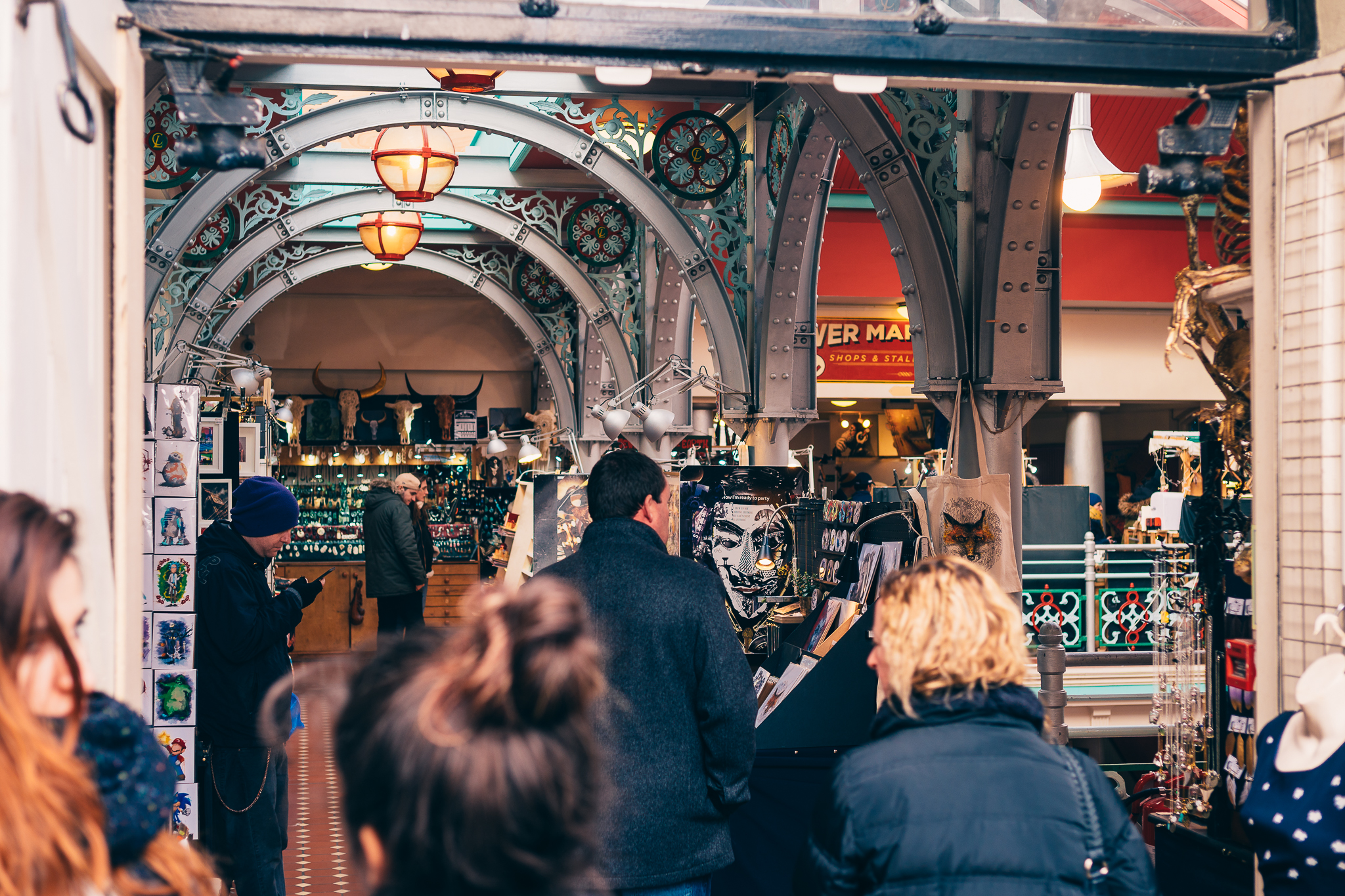 Pass by Piccadilly and Soho: These areas are next to one another, at the heart of London. I would say Piccadilly seems like a "Times Square" in London, with enormous, advertising screens and a street full of stores to shop at. Soho is a lively district with endless possibilities for entertainment, along with restaurants and bars that'll make for fun evenings and nights. If you like plays and musical, here in the City of Westminster (where you'll find these two districts) you'll find some of the most famous acts happening right in London!
Visit Sky Garden: For an amazing (and free!) panoramic view of London from a 35th floor rooftop, visit Sky Garden. Have in mind that to get in, you need to book online prior to your visit. The earliest that you can book is a week in advance, as every Monday they open spots for the following week. And you probably do want to book early, since they tend to run out of space, especially if you're planning on visiting during the weekend. In any case, don't forget to book! Once there, you can enjoy a coffee or a drink at the City Garden Bar on the 35th floor, or have a meal at their restaurant. If you're there just for the views (like us), you're welcome to hang out for as long as you want.
Check out East London: Not too long ago, this part of London was considered the sketchiest part of the city. But in the last few years, this has become on one of the best hubs to hang out at, especially the Shoreditch area. This "hipster" area has grown so much and is ideal for hitting up pubs (going on pub crawls here is the norm!), exploring its street art, and enjoying some of the best budget food options in areas like Spitalfields, Brick Lane, Shoreditch, or WhiteChapel. We recommend Beigel Bake for a Salt-beef bagel (omg) and Arzu for some delicious samosas!
Have an afternoon tea: How could you visit London and not experience an afternoon tea? This English tradition is one that we could definitely get used to. Afternoon tea is served between 1:00 PM and 5:00 PM, although this varies depending on the place that you visit. There are two different kinds to enjoy: cream tea (scones with clotted cream and jam, accompanied by tea) or full-out, "afternoon tea" (small savory sandwiches, small sweets and cakes, scones, and a tea of your choosing). Because this can be a bit pricey, most of the times we just went straight for the "cream tea," only to later discover the secret to having an affordable afternoon tea: Groupon! We found a half-priced afternoon tea for two people on Groupon, bringing the price down to 13 pounds for two people, and ultimately down to 10 pounds with an additional discount we found. Morale of the story is, look for good deals and you'll be surprised at what you find.
Visit iconic places: And why not spend a day or two visiting some of the most iconic places London has to offer, taking photos/selfies and being an overall tourist in this beautiful city. Some of the places we're referring to include:

Buckingham Palace
Big Ben (under construction until 2020s)
London Eye
London Bridge
The Westminster Abbey
The Parliament
The Shard
Trafalgar Square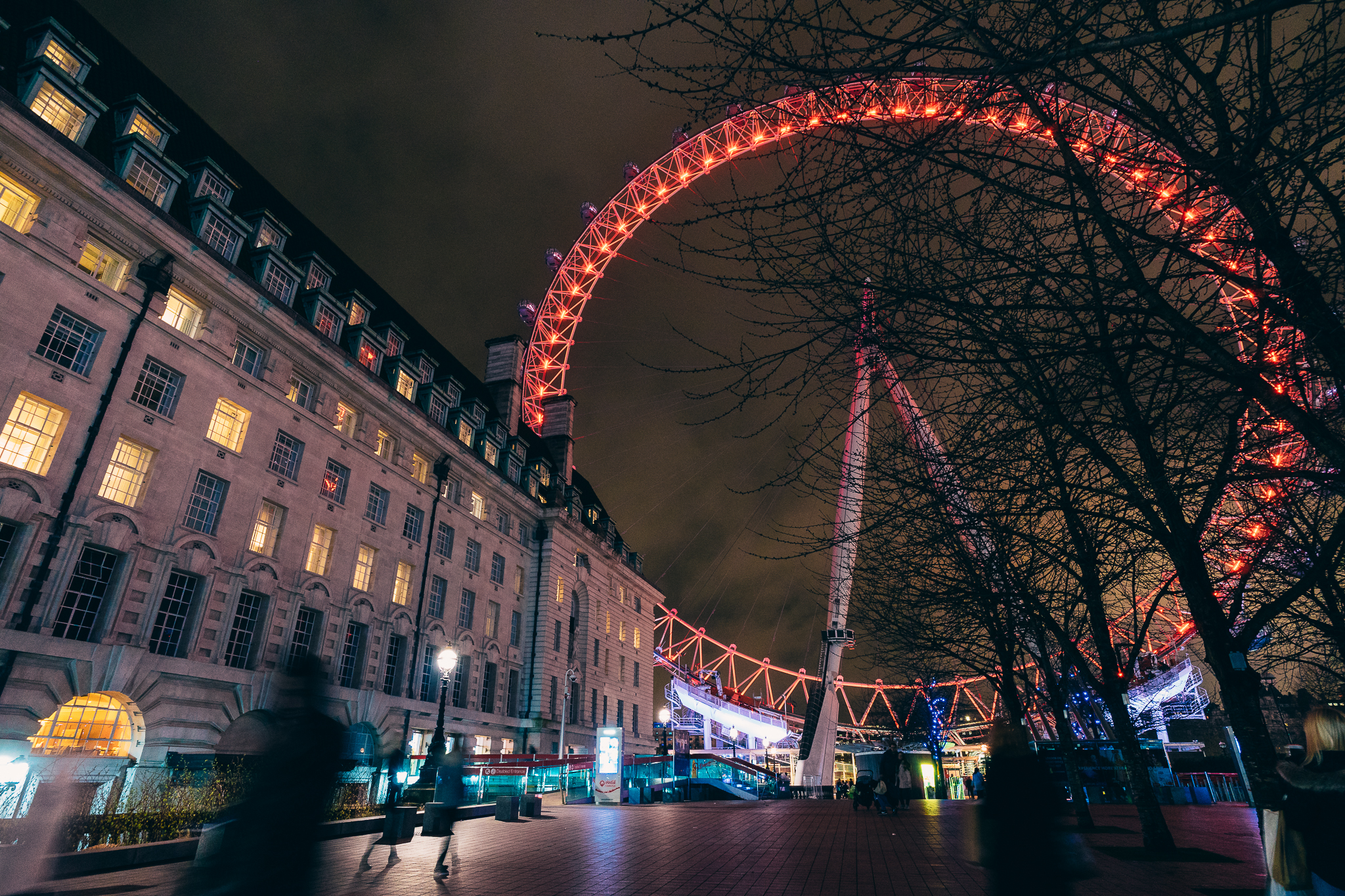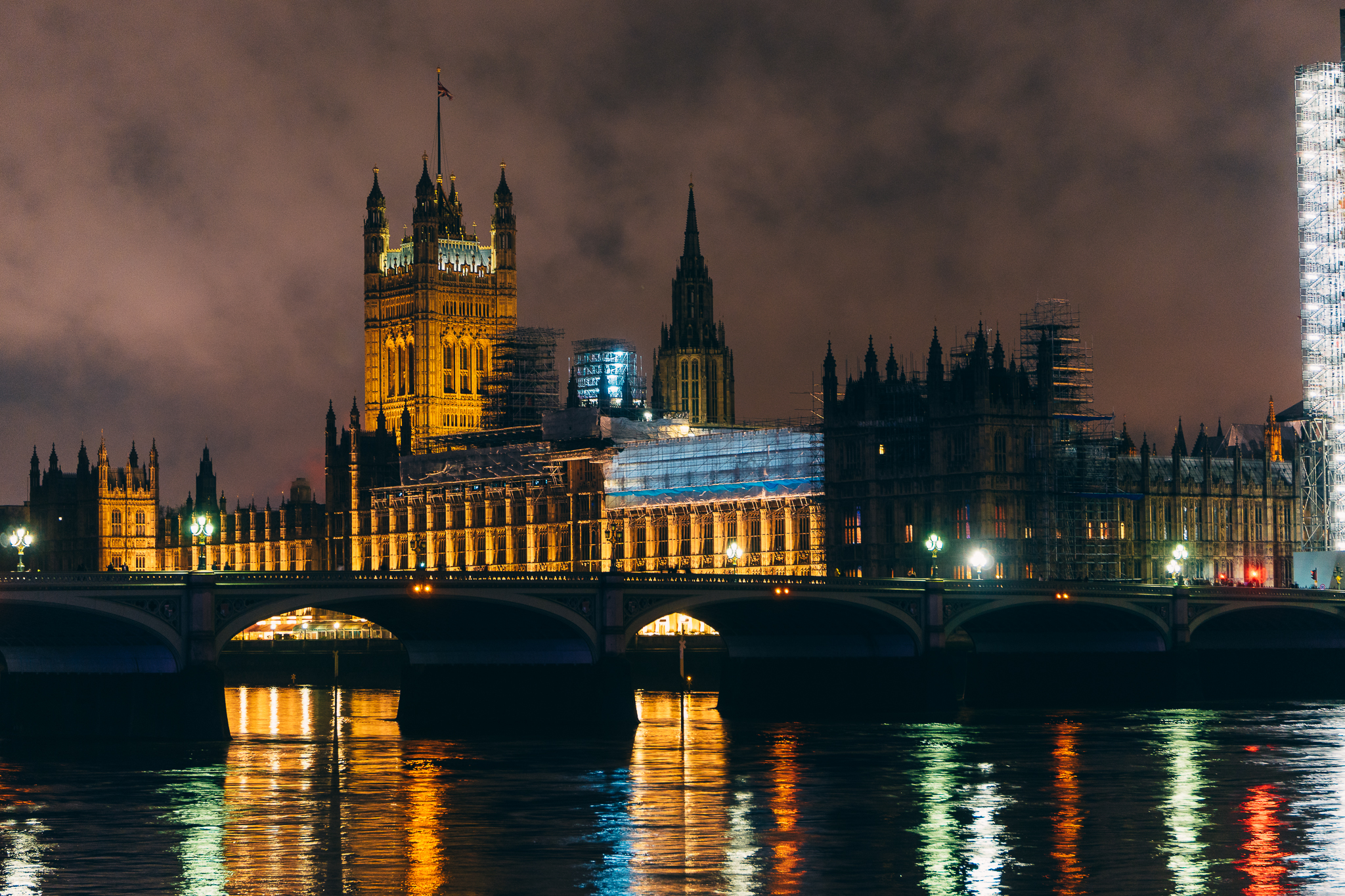 Try English foods: I have to admit that during our time in London, most of the time we ended up eating foods from every part of the world but England (too many options!). We did end up trying some traditional English foods eventually, though: fish and chips (try Poppies), traditional English pies, bangers and mash, scones, and shortcakes… so, even if you decide to indulge in some amazing Indian or Italian food, don't forget to try some of these delicious English plates!
Hyde Park and Kensington Gardens: These parks are connected to one another and they are quiet respites in the loud, busy city of London. Visit these connected parks for a literal breath of fresh air. It is beautiful place to walk around and enjoy nature sprawling about, with even cute squirrels that are scurrying about in the midst of the city. Within these two places, you can also make stops at Kensington Palace, Serpentine Gallery, The Albert Memorial, and the Princess Diana Memorial.
Weird Cafes: London is one of the best places in the world to find weird, zany cafes and restaurants; thematic coffee shops are everywhere. During our stays here, we visited Cereal Killer and Lady Dinah's Cat Emporium. These choices were based on two of our favorite things: my love for animals, and Robert's love for cereal and milk.
Cereal Killer is a basically a cereal cafe with a retro design, where you can eat all kinds of cereal-related things: bowls of cereal and milk (all kinds of milk available, of course), cereal-themed milk shakes, cereal-flavored ice cream... The retro design lends to a really cool atmosphere that will that will have you reminiscing years back into your youth. Since paying 4–5 pounds for a bowl of cereal and milk seems a bit excessive, we recommend you try one of their hot milk shakes (the picture below will give you a good idea of what we're talking about here), that has basically everything sweet and amazing thrown into it. The flavors to try? Salted Caramel or Nutella — they're delicious!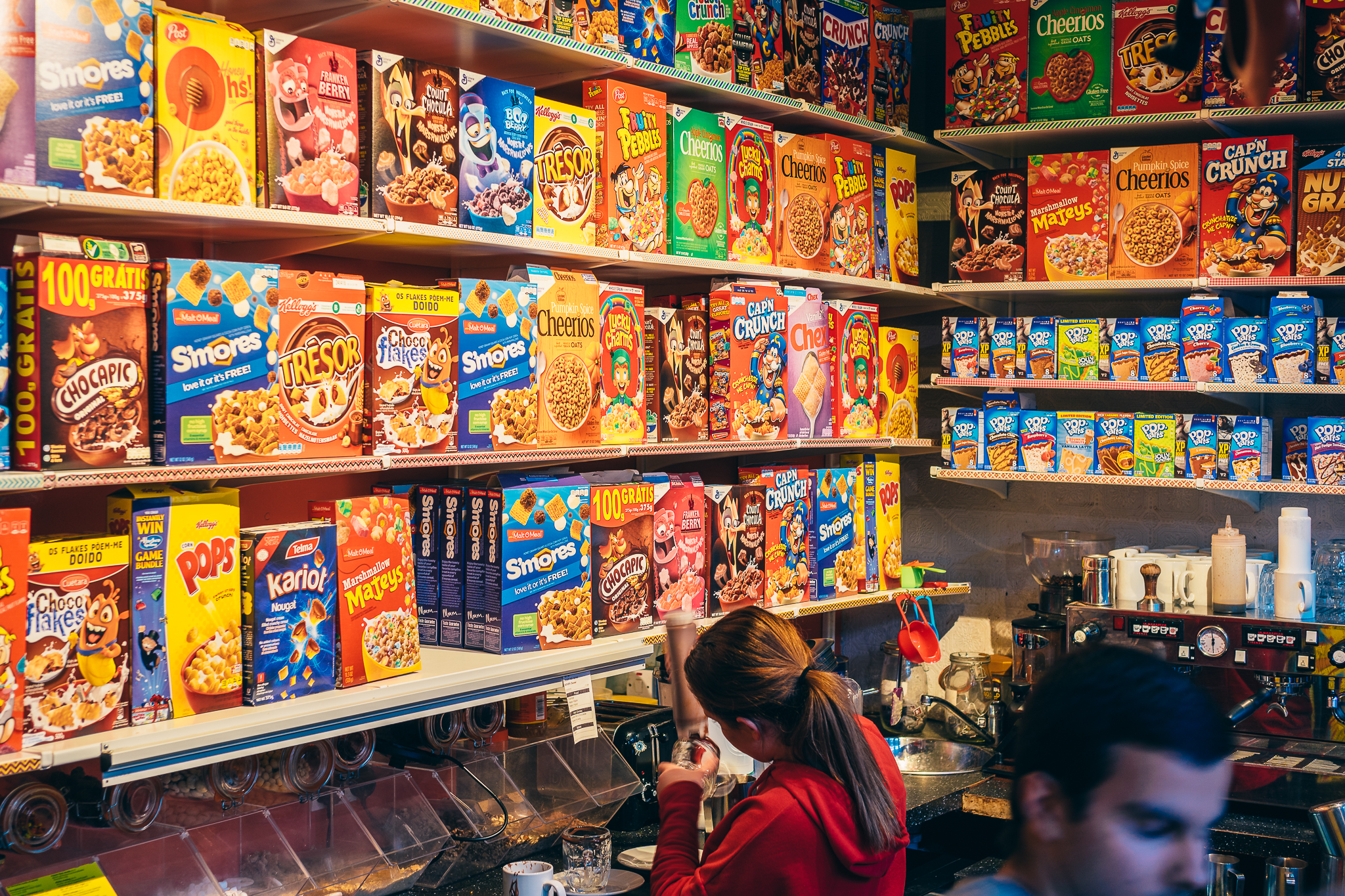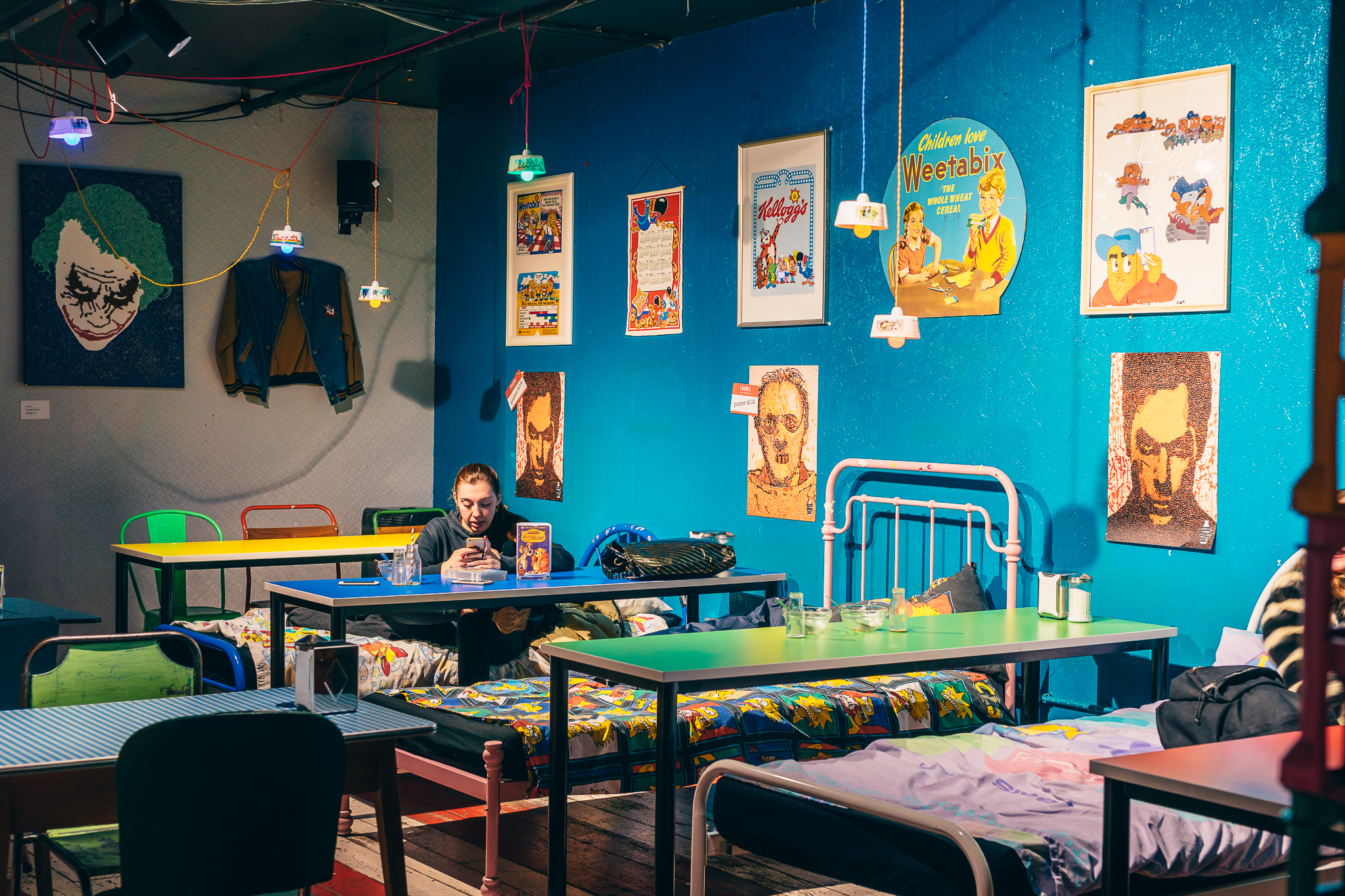 Lady Dinah's Cat Emporium is a coffee shop that is essentially run by about 15 cats — they're the bosses here. These rescued cats live in an Alice in Wonderland-themed cafe/playpen, where everything is decorated fantastically throughout and fashioned in such a way that lets the cats relax and play in every corner. They walk and play and prance about while you enjoy your coffee, and are lovingly cared for by the cafe's staff. This is the perfect place for animal and cat lovers! The entrance fee is 10 pounds, which includes a drink, and up to 90 minutes with these beautiful, furry creatures. Booking beforehand is necessary.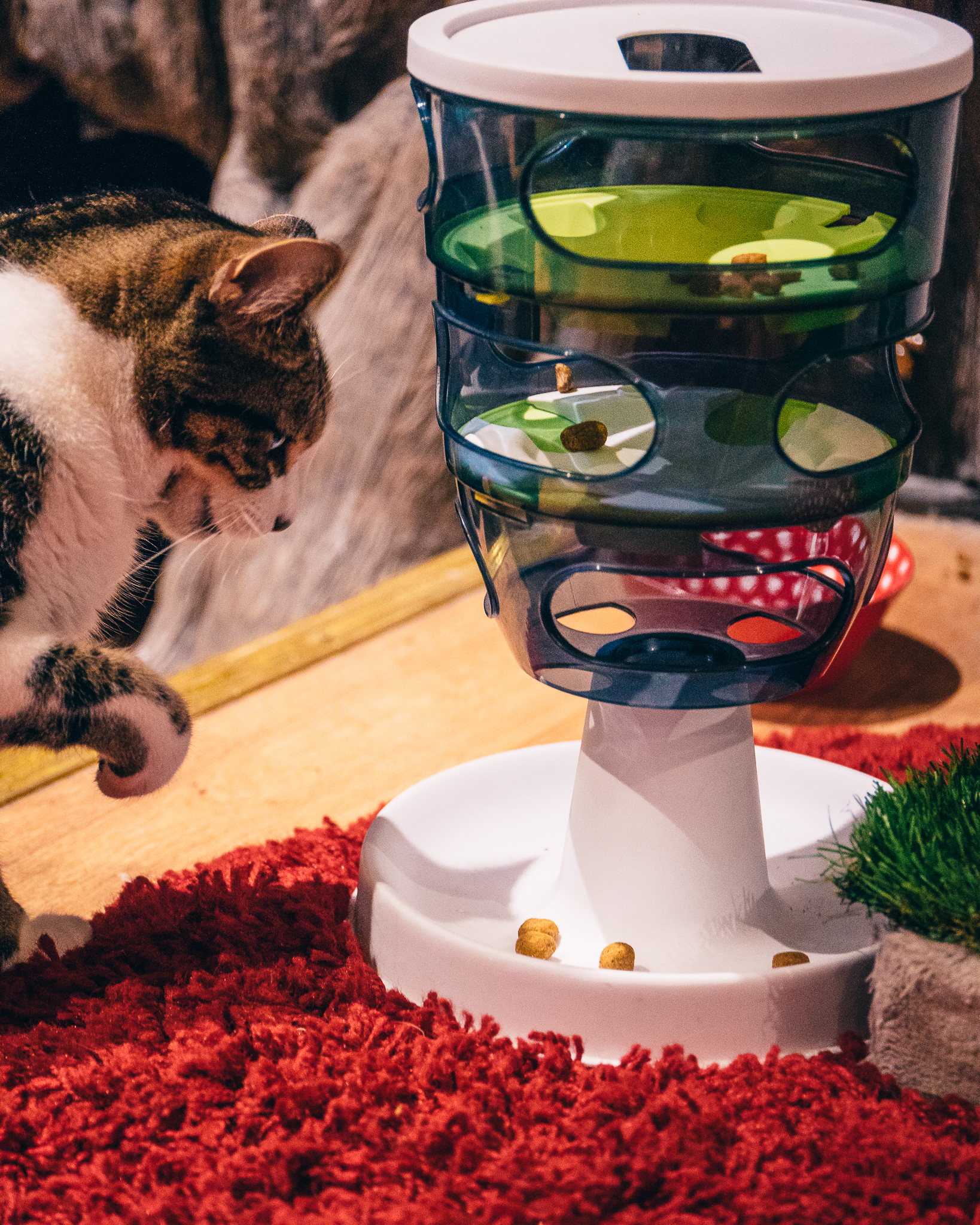 Where to stay in London?
One of the best ways to stay within your budget in a big city like London, and meet people while doing so, is to stay at a hostel. Since we knew we were going to be doing a tour of Europe this year, and we wanted to find accommodation that we'd want to come back to time and time again — we landed on St. Christopher's Inn Hostels. We were fortunate to have been hosted by them at some of their hostels, one of which was in London, where they have 8 hostels in total. We stayed at the London Bridge hostel, which is at an amazing location: it's a few steps away from London Bridge, the Borough Market, and the London Bridge train station. They have private and shared rooms (and new capsule beds too!), a modern design aesthetic, and our two favorite things: breakfast that's included, and a bar on the first floor – Belushi's – that offers guests special discounts! We'd whole-heartedly recommend the place to any couple, solo-traveler, or group of friends staying in London. And If this location is not quite what you're looking for, you've always got 7 other options!
Tips
Your best option for traveling through the city is to get an Oyster card, which is valid for both the bus and the tube (aka the London Underground). You can get it at a tube station with a 5-pound deposit that will be returned to you at the end of your London visit.

During your visit, you'll be able to top the card up with cash at tube stations via machines near the entrances.

The main benefit of using an Oyster card is the "daily cap." Everyday, the maximum amount of money you can be charged will be capped at a certain amount; the cap varies on how far from the center of London you travel, i.e. how many zones you need to travel through. This limits what you're charged on travel-heavy days, making all subsequent trips for that day free.

Remember to swipe your Oyster card as you enter the tube and when you leave! If you don't swipe it on your way out, you will end up being charged for a longer trip, and the cap won't take effect for that day.
When deciding on whether to take a bus or the tube, keep in mind that buses take longer to get anywhere, and even more so when there is traffic. If you're in a rush, your best bet is to take the tube. The only time you may want to steer clear of the tube is during "rush hour," during which many of the stations will have extremely long queues just to get in.

On attire: Use layers during the winter to keep warm, but with layers that can be removed when you're in indoors, where most places are equipped with heaters. Also, don't forget to bring an umbrella with you everywhere! We spent almost two months in England (February, March, and April), and although we loved it all, it was rainy more than 80% of the time.

Don't block the sidewalks! Or… any place in general. If you're in a group, don't just stop in the middle of a sidewalk, a staircase, or a doorway, where you may be obstructing the path of other pedestrians. Especially be mindful of this when you're on an escalator: chill on the right, speed through on the left. Just keep that in mind. The overall speed in London is accelerated, so if you want to go at your own rhythm, just move over to the side.

To balance out your spending while in London, try buying food at the supermarket and making it wherever you're staying. If you skip a few pricey lunches or dinners, you can put that money towards activities and tours (or save it for your next trip!).