You don't visit Kuta without first considering its beaches. This Indonesian town is on the island of Lombok and essentially next to a beach itself.
Not only that, but Kuta is also next to several wanderlust-inspiring beaches that will drag surfers, backpackers, and tourists from all over the world to visit.
If you like natural beaches that aren't yet heavily commercialized, read on.
How to Get to Kuta and Things to Know Before Arriving
Kuta, Lombok, itself is a tiny, laid-back town with dirt-paved roads that mostly lead to modest guesthouses and hostels, as well as open-air, beach-inspired restaurants and bars.
Despite some hotel-construction currently taking place in the small town, it overall feels disconnected from the hyper-connected, modern world we all live in.
This is a good thing.
Getting to all of these Kuta, Lombok beaches is fairly simple, as it consists of a 30-minute taxi (try sharing one for lower costs!) from Lombok International Airport (BIL), a shuttle from many other cities on the island of Lombok, or a combination of shuttle and ferry from other parts of Indonesia (Bali, for example).
Travel tip! Make sure you research transfer prices before getting to Lombok, be assertive when negotiating, and always agree on a price before getting into any vehicle or handing over your luggage. Drivers will always attempt to take advantage of unknowing tourists and overcharge or under-deliver. It's not a big deal; just be aware of this and you'll be fine!
Ok, so you've arrived in beach heaven – where to first?
Kuta Lombok Beaches – Disclaimers and Extra Info!
We'll be differentiating each of these beaches with 6 distinct questions, some of which may be more important to you than others. I'll be using short versions of the questions in the article – however, these are the questions in full:
How easy is it to get there?
What is the beach primarily known for?
How large is it?
How populated does it get?
Are there any swings on the beach?
It's important we a few things before going on.
First, when we discuss "How easy is it to get there?", we're referring to getting there from Kuta, Lombok, assuming you're staying there or least driving from there. Then, we should also mention that the majority of these beaches are easy enough to get to if you can ride a scooter (although some roads are pretty risky for a scooter to drive through, regardless of skill). We didn't feel confident on a scooter throughout our time in Indonesia, so we were stuck dealing with taxis in Kuta. This made visiting beaches more expensive and difficult, but also gave us a perspective of the roads you can expect, regardless of the vehicle you're in.
Second, "How populated does it get?" is based on when we visited (high season, in July) but also on research of what others online have said. What we noted, generally, is that the earlier you go to a beach, the emptier it will be.
Third, "What is it primarily known for?" refers to whether the beach is differentiated by something. All of the beaches have clear, turquoise waters with absolutely gorgeous views is most directions. Instead of these commonalities, we'll mention if a beach is known for having rough waves or not, for example.
Fourth and last, let's talk about the mafia. All of these beaches, in one way or another, has a mafia stationed near or at the entrance (with the exception of Kuta, that has no entrance mafia to speak of). We aren't referring to the life-or-death, nice-suits-and-pinky-rings mafia. The mafia here, as we jokingly refer to it, has several branches. One of the branches controls the taxis in the city: they don't allow outside taxis/drivers to come in and pick up potential clients. That means forget about using the Blue Bird taxi or Grab/Uber apps, because nope. Then there's the branch at the beaches.
The beach mafia members belong to the branch that stands in front of places that exist naturally and charges for you to come in, usually a small amount between 5,000 and 20,000 IDR. They charge you to get passed them, essentially; there's no security or clean-up provided – just a fee to get inside. And in other cases, a fee to park your car or motorbike on the dirt.
Ok, so enough about the mafia. Let's get to what you all came here for.
Kuta Beach
The first beach you'll notice is the one that's right next to Kuta, a rather extensive beach that is flanked by mountains on the west side and unique rocky islets on the east side. You'll find tourists here, most of which are staying in the near vicinity, as well as several drivers holding down their taxi mafia branch (see above).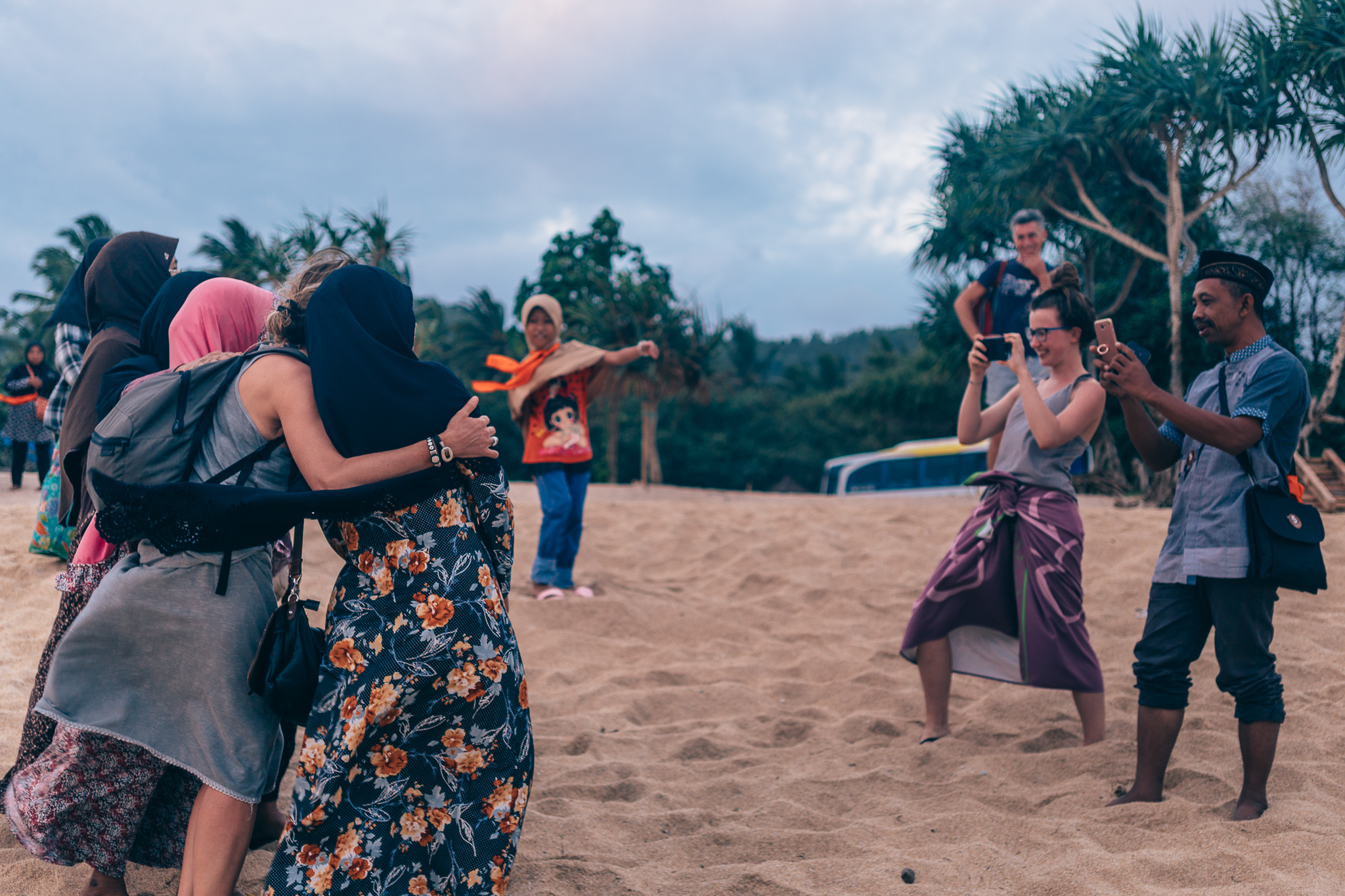 Getting there? Extremely easy. It's next to where you'll likely be staying (if you decide to stay in Kuta, which we recommend!).
Primarily known for? Being next to Kuta. Seriously. For us, it was a beautiful beach to lay and tan on during the morning or late afternoon, and a perfect for a stroll in the evening to catch the sun setting.
How large? 2.21 km; very large. We stayed closer to the beginning of the beach (where the village is), but if you want to venture out or jog through the beach, this is a great choice.
How populated? Populated towards the west-side entrance. We were there during high season and it was never truly packed – but comparatively speaking, there are more intimate beaches. This is mostly due to it's vicinity to Kuta. If you venture out further out into the beach, you can escape the crowds and salesmen/women selling coconuts, bracelets, and sarongs.
Swings? Yes. There are a couple of lovely swings near the start of the beach.
Tanjung Aan
Tanjung Aan is the second beach we visited, as it was also very accessible. We visited it early in the morning (around 9 am), and practically had the entire gorgeous beach to ourselves. Well, for about the first hour, we did have to share it with two friendly, napping dogs.
Getting there? Very Easy. This beach is only about 15 minutes away from Kuta, Lombok via motorbike or vehicle, with the road being moderately tame but somewhat bumpy towards the end (esp. for a scooter).
Primarily known for? Two isolated bays separated by an elevated plateau that overlooks everything. Remote, isolated beaches covered in fine, white sand.
How large? 2-3 km; fairly large, yet has an intimate feel due to lack of people and division in middle.
How populated? Well-known, but quieter and more intimate than Kuta Beach, for example.
Swings? Yes. There is at least one on the west side of plateau.
Mawun
Mawun is a semi-circular beach that is confined on both ends by beautiful mountains; this beach feels even more secluded than the previous and can also be visited early if you'd like a more private experience. This beach is a gem and is one that has to be visited if you're in Lombok; it's a sight you won't soon forget.
Getting there? Moderate difficulty via motorbike. Mawun is about a 45-minute drive (20 km) by motorbike or vehicle from Kuta, Lombok. Much of the roads are paved and modernized, but some of the roads in the middle of the trip can be hellaciously bumpy/rocky.
Primarily known for? Isolated, horse-shoe shaped beach, perfect for relaxing and swimming.
How large? Over 1km around; small. The middle is home to rougher waves and some oceanic debris that ends up on the shore, so it is best to utilize the outside edges for swimming.
How populated? Somewhat. Although you will find more people at Mawun as the day progresses, the beach remains tranquil and quiet.
Swings? Nope.
Mawi
If surfing is your thing, you'll be visiting Mawi beach during your visit to Lombok. While it isn't suitable to beginners due to the size of the waves (especially during dry season), experienced surfers, whether local or tourist, often frequent this beach to surf.
Getting there? Difficult. The roads leading to Mawi are extremely rough and under-developed (read: mountainous dirt roads). It is about 40 minutes west of Kuta Beach; getting there via car is preferable if you're not very comfortable riding a scooter up- and downhill. Also, be careful for cattle herds that often cross the road.
Primarily known for? Surfing, especially during dry season.
How large? Under 1 km; small.
How populated? Can be quite secluded when emptier because of it's smaller size, but crowded when the tide is ripe for surfing.
Swings? Also nope.
Selong Belanak
Selong Belanak is one of the longest beaches in Lombok, along with one of the cleanest. When we visited the beach, it was replete with people who were playfully kicking a soccer around, learning to surf, and who were kite surfing, swimming, and tanning all along the extensive shore. The beach is large enough that even with all of this activity, you could walk towards one end or the other and still have a section of the beach to yourself.
Getting there? Lengthy, but well-established and paved most of the way.
Primarily known for? It's expansive size, which includes several warungs (local shops), board rentals and guides offering lessons, and a long, white-sand beach. Surfing that's great for beginners.
How large? Over 2km; very large.
How populated? Quite popular, as this beach's size, gentle waves, surf lessons, and spacious shore attract plenty of people. The beach is more than ample enough to accommodate the extra people, however.
Swings? No.
If You Could Only Visit One
Our favorite beach was Selong Belanak, for the variety of activities available across its extensive stretch of soft, white sand and wavy, yet tranquil waters. If you're after a more intimate beach, however, we'd recommend Tanjung Aan in the morning (9 am, for example). Either way, you really can't go wrong.
Lombok, Indonesia, is full of stunning beaches that span all tastes, whether you're out to surf, swim, or sun-bathe while reading a good novel on your favorite e-reader. Many of these bucket-list beaches are just outside of Kuta, which is just one of the few reasons we stayed in there for over a week.
Over to you: Would you travel across the world to see Kuta Lombok beaches? What other exotic beaches would you travel for?